An Intensive Degree Focused on the Dynamic Business of International Sports
The program provides its graduates a thorough understanding of the skills crucial for professionals to succeed, while building a broad network of relationships in the sports-rich landscape of Southern California.
Students study statistical analysis, organizational behavior and leadership, financial management, and business strategy, along with sports economics and marketing, in classes taught by seasoned, professional educators. Coursework is heavily international in scope. The program includes an overseas excursion to study sports business in the Dominican Republic and frequent guest lecturers with global experience.
The Sports MBA program offers students 12 months of accelerated class time, focusing on critical business skills, with an additional four months of supervised consultancies worldwide. Classes are offered in a cohort format to foster strong relationships among classmates, upon which graduates can draw throughout their careers.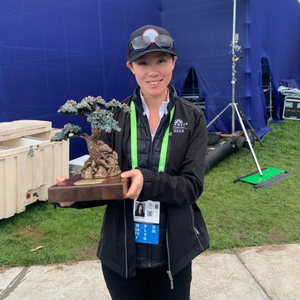 Student Highlight
It was an amazing experience for me to gain hands-on experience as a marketing intern with the 2023 Farmers Insurance Open. I was able to make connections with industry professionals throughout San Diego as a result of my involvement in the tournament. I truly admire the Century Club staff and their members' hard work, professionalism, and passion for the tournament.



Sports MBA Faculty Bring the Sports Industry to You
Faculty FeatureDr. Vassilis DalakasProfessor, Sports Marketing & SponsorshipsIn my course, students develop sponsorship plans on behalf of real properties and pitch them directly to an employee of the brand they targeted. This is as close to a real-world context as a classroom experience can get. It's truly experiential learning.Learn More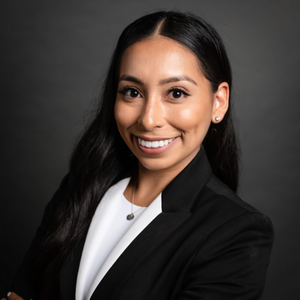 Alumni Spotlight
Angelica Gamez, '22

Angelica Gamez (SMBA '22) Account Executive, Corporate Partnership Sales at San Diego Wave Fútbol Club. Gamez Is a recent graduate of the Sports MBA program (2022) and also holds a bachelor's degree from SDSU, where she was a student-athlete cheerleader and intern for Aztec Athletics Marketing.
Sports MBA Curriculum
In this course, taught by Dr. Bruce Reinig, students look at issues facing sports organizations through a statistical lens; for example, how to predict concession stand wait times at sporting events or how to evaluate or even predict athlete performance. Dr. Reinig combines his own research in sports business with hands-on training in Microsoft Excel, SPSS and more to provide students with the foundational tools for thinking critically about current issues in the sports industry.
Dr. Valerie Alexandra challenges the Sports MBA cohort to think critically about all aspects of interpersonal communication and organization within the workplace, and how varying approaches can affect work performance and cohesion. As an in-depth leadership and management course, students directly apply these skills to the sports industry through the course's final project in which students provide analysis and offer feedback to a sports organization.
In Dr. David DeBoskey's course, students learn the Accounting language with the expectation that when they finish the courses, they're capable of making sound financial decisions in management roles. The ex-CFO of the San Diego Padres serves as an annual guest speaker for the class and class projects include financial statement analysis of sports industry sectors of the students' choosing.
Financial Management exposes students to the fundamental principles of corporate finance, taught by Professor Frank Ryan. This course discusses how managers use financial statements, engage in financial planning, value cash flows, understand risk, make long-term investment decisions, and how to make both long- and short-term financing decisions. Once the groundwork has been laid, students apply these principles to analyze sports business topics such as franchise valuation, stadium financing, personal seat licenses, athlete salaries, and more.
Sports Marketing is taught by visiting professor, Dr. Vassilis Dalakas (@DrSportBusiness), who provides an in-depth introduction to the principles of marketing, and how they apply within the sports business realm. To teach sports marketing effectively, Dr. Dalakas focuses heavily on corporate partnerships and sponsorship in the world of sports, and specializes in fan behavior and the fan experience using real-world examples throughout, including an annual corporate partnerships consulting project with a sports organization.
Sports Economics, taught by Associate Dean Dr. David Ely, uses the sports industry to illustrate the applications of microeconomic principles, macroeconomic concepts, and analytical tools used in business decision-making. Students learn to apply industrial organization theory to analyze sports business models, and related issues when evaluating local markets for teams, and calculating the value of sports franchises. Course discussion topics include stadium financing, ticket pricing, team relocation, player salaries, athlete representation, and arena naming rights deals.
Throughout this course, Dr. Helio Yang shares her broad range of knowledge on topics related to the design, execution and management of operations and supply chain systems. The course teaches students to model solutions related to project scheduling and management, inventory management, demand forecasting, and queue management. Group presentations for this course provide students the opportunity to research how sports business organizations manage issues related to their operations and supply chains.
Dr. John Francis leads this course, which studies the theories and trends that shape the evolving relationships between sports organizations and their fans. With examples drawn from all segments of sports business, this course is intended to give students a foundation of business principles that can be applied to the sports industry.
In this course led by Professor Mark Lindner, students build and refine their personal playbook as part of broader strategic career planning. Students learn negotiation skills, resume building, interviewing tactics, participate in corporate culture workshops and more in order to build their personal brands and enhance employability and longevity in their careers. Using a combination of Professor Lindner's expertise and network, as well as many guest speakers, students continually focus on and develop professional and personal plans and goals.
Professor Christopher Clark (SMBA '12) instructs this course which provides a summary overview of marketing as a business function and field of study that is critical to the success of an organization. To achieve this objective, students enroll in this series of instructor-led marketing lectures, paired with subsequent site visits for experiential learning. The final Marketing Plan project will include proof that students have understood the learning objectives of strategic thinking, planning, creative elements of promotional campaigns, and data driven measurements of growth as it relates to the broad field of Marketing.
The goal of this course, taught by Dr. Aaron Bruce, is to help students gain a greater understanding of business ethics, particularly as it relates to shaping a diversity, equity, and inclusion agenda for themselves and the organizations for which they work. The course takes students through a variety of perspectives on power structures, disparities and promising practices that create a more equitable and just society. Topics covered in the course include: cultural agility, inclusive leadership, corporate social responsibility, community engagement, and diversity communications in sports.
Professor Romain Decourtye (SMBA '16) teaches the Sports MBA program's Sports Law course, with the goal of helping students create a process for thinking critically about legal issues through the use of legal analysis techniques. The course achieves this through covering business law subject matter using multiple perspectives so when legal issues arise they are aware of the relevant stakeholders. This course is heavy on current events in sports, and helps students develop a practical understanding of topics such as: the U.S. legal system, the international sports legal system, the law of torts and intellectual property, athlete representation, contracts, employment, and collective bargaining.
This course, taught by Dr. Andrew Baker, introduces marketing analytics that are applicable in business broadly, as well as digital marketing specifically.
In addition to examining these environments, this course will provide a brief introduction to the necessary technical skills for marketers to participate in, produce content for, and analyze consumer behavior in digital networked environments. The primary objective of this course is to enhance participants' ability to engage in marketing planning and implementation in networked environments. Specific marketing activities such as pricing, product development, distribution, promotion, and campaign effectiveness measurement will be considered.
Dr. Ben Corbett teaches this course, in which students develop a fundamental understanding of analytical techniques as well as analytics software to tackle real-world sports business issues. At the completion of this course the student will have a working knowledge of how sports organizations employ CRM for lead management, visualize data using platforms such as Tableau, and use statistical techniques to solve problems for departments such as marketing, ticketing, and corporate partnerships.
This course features an international excursion to the Dominican Republic led by Sports MBA program director Scott Minto (SMBA '06). Since 2009, Sports MBA students have studied abroad in the D.R. for part of their summer semester to observe and evaluate the impact that Major League Baseball and its teams have on the country. Students learn from top MLB officials in the country, tour team facilities, meet with prospects, work with NGOs, and conduct community service, all while immersed in a Spanish-speaking environment and vibrant island culture.
PGA TOUR Executive Women's Day at the Farmers Insurance Open
Farmers Insurance Open
US Women's National Team vs. Republic of Ireland
US Men's National Team vs. Canada – International Friendly
NCAA Sweet 16 Western Regional in Anaheim
Mountain West Conference Tournament
Women in Sports and Events (WISE) Power Play Event
IRONMAN SuperSEAL Olympic Triathlon
FootGolf San Diego Tournaments
USA Rugby Tournaments
MLB Spring Training – San Diego Padres
Rock 'n' Roll Marathon – Carlsbad 5000, San Diego 5K Run
Special Olympics South Bay Area Games
AVP Beach Volleyball – Huntington Beach Open
Red Bull Wings for Life World Run
Mexico vs. Chile International Friendly
Sports Business Journal Intersport Brand Engagement Summit
Fox Sports San Diego – MLB All-Star FanFest Activation
Under Armour – MLB All-Star FanFest Activation
Stand Up to Cancer – MLB All-Star Game Activation
Dew Tour – Long Beach
Self Shape Surf Festival
Our students learn to apply the business principles they learn in the classroom and hone their presentation skills with real clients in the sports industry through consulting projects including developing marketing plans, organizational analysis reports, and pitching new ideas for corporate sponsorship. Previous clients have included:
Pittsburgh Penguins
Oakland A's
US Olympic Training Center
SDSU Athletics
Victus Advisors
Navigate Research
TGR Live
Challenged Athletes Foundation
Nixon
Anaheim Ducks
Farmers Insurance Open
FlingGolf
Topgolf Callaway
UCSD Athletics
T-Mobile
San Diego Gulls
Draftkings
San Diego Wave FC
Super Girl Surf Pro
Golden State Warriors
Club Tijuana
Dominican Republic Trip
Every year since 2009, Sports MBA students have spent approximately ten days as a group on site in the Dominican Republic. This trip is one of the most memorable experiences of the year for Sports MBA students. The excursion is tied to an academic course in Management and is led by program director, Scott Minto (SMBA '06). The concept of the trip is to develop students' global competencies through a complete cultural and language immersion in a developing country. The class prepares extensively for the trip, reading books about Dominican baseball and culture and studying Spanish.
San Diego Padres
UCSD Athletics
San Diego Gulls
SDSU Sports MBA
Farmers Insurance Open
Snapdragon Stadium
Wasserman
Upper Deck
Gravitate Sports Marketing
Sports San Diego
San Diego Loyal
San Diego Wave FC
Navigate Research
San Diego Legion
After completing the 12-month classroom portion of the Sports MBA curriculum, students are prepared to work with a sports organization on a full-time basis. The MBA candidates have a faculty mentor oversee their work during their final semester, with the goal of providing their host organization with a comprehensive consulting report on a specific sports business field at the end of the term. The course work is completed remotely and classes do not meet on campus during this term. Many students secure full-time employment during this portion of the program, and while many students land opportunies in Southern California, a number of students each year move elsewhere to complete their degree.
BA 780 Field Studies in Business: 4 Month Internship
BA 795 Integrative Business Analysis: Final MBA Thesis Report
Get In Touch
Email us for more information on the program and to speak to a current student.
Take the Next Step
Want to learn more? Request information below. Ready to join us? Start your application now.