LEARN, NETWORK & BE INSPIRED
The Women in Leadership Conference is comprised of engaging presentations, panel discussions, interactive workshops, and networking opportunities. The program is designed to focus on the specific issues females face in the workplace while equipping students with the skills and confidence they'll need to thrive both as professionals and individuals.
The panels and workshops feature a variety of successful female leaders, entrepreneurs, and industry experts aiming to inspire each attendee while reimagining a more equitable world. These events are free and open to all members of the SDSU community and students from all majors.
The 7th Annual Women in Leadership Conference was held on Thursday, March 9, 2023, at Montezuma Hall. The 2024 Conference dates will be announced in the Fall of 2023.
The Osinski Family:
SDSU marketing faculty member and local entrepreneur, Steven Osinski alongside his family, created a $500,000 endowment to continue and expand the Women in Leadership Conference in perpetuity at San Diego State University. Osinski also serves on the planning committee and is major contributor behind the scenes, ensuring the event continues to evolve each year.
Past WIL Events
2023 Guest Speakers
Cynthia Johnson, Marketing Professional, Author, and Entrepreneur
Jackie Truong, Partnerships Lead for Brand Marketing at Google
Stefani Polonia, Vice President of Ticket Sales, Service, and Membership, San Diego Loyal Soccer Club
Helen Zhao, Team Lead, TikTok
Krystal Nzeadibe, Finance Professional, Harvard MBA Candidate, & Podcast host
Poppy Jamie, Wellness Advocate, Entrepreneur, Podcast Host & Founder of the App Happy Not Perfect
2023 Women in Leadership Conference Schedule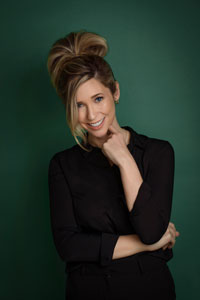 Lunch & Learn Workshop led by Cynthia Johnson, Marketing Professional, Author, and Entrepreneur
12:00 - 12:50 pm: Opening Session: The Art and Science of Personal Branding
Join us in a live interactive discussion with Cynthia Johnson: The Art and Science of Personal Branding. Cynthia will dig deep into the essence of personal branding and explore why it is so integral to succeeding in today's professional landscape. She will help young professionals understand the power of the 'you' in work and how developing a strong personal brand can give you an edge in the competitive job market.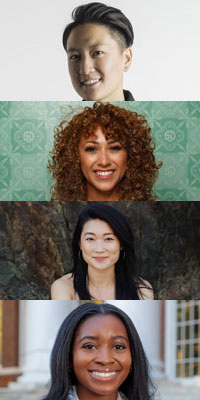 1:00 - 1:50 pm - Emerging Leaders SDSU Alumni Panel
This panel discussion features highly talented SDSU Alumnae & other leaders who will share their experiences navigating their post-college careers, growing into leaders in their respective fields, and shaping the workforce for future generations. Led by the Director of Marketing for SDSU Alumni, Gema Deleon, this panel is sure to inspire and provide valuable insights for each attendee.
Jackie Truong ('11 Marketing), Partnerships Lead for Brand Marketing at Google
Stefani Polonia ('14, Sociology), Vice President of Ticket Sales, Service, and Membership, San Diego Loyal Soccer Club
Helen Zhao ('15, Harvard University), Team Lead, TikTok
Krystal Nzeadibe ('18, Finance), Finance Professional, Harvard MBA Candidate, & Podcast host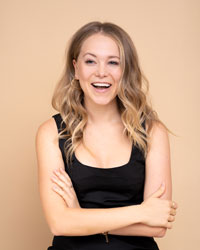 2:00 - 2:50 pm - Keynote Session: Poppy Jamie, Wellness Advocate, Entrepreneur, Podcast Host & Founder of the App Happy Not Perfect
SDSU Marketing Professor Nita Umashankar will interview Poppy Jamie who will share her journey both as a professional and an individual aiming to navigate success while prioritizing mental wellness. Poppy acknowledges the stress and anxiety life can bring and will share insights on how to gain peace amidst the never-ending noise of life.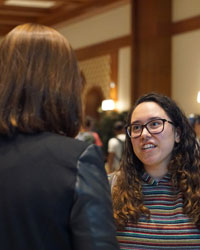 3:00 - 4:00 pm - Let's Taco 'Bout Networking
The reception will feature several female-focused SDSU student organizations, corporations, and community organizations. Enjoy an opportunity to network, learn networking strategies, win prizes, and feast on delicious Mexican cuisine! Students are encouraged to come dressed for success for this gathering!
Cynthia Johnson is an entrepreneur, marketing professional, author, and keynote speaker. She is Co-Founder at Bell +Ivy, a personal and team branding firm. She is co-founder and Chair at WonderKey Collective, a nonprofit focused on collecting and redistributing corporate technology to foster youth. Cynthia is an Advisory Board member for The Millennium Alliance, a leading technology, business, and educational advisory firm serving Fortune 1000 C-Level executives. Her book, Platform: The Art and Science of Personal Branding, was published by Penguin Random House and named top books for personal branding by Forbes, Bustle, and Entrepreneur magazines. Cynthia is an Adobe Insider, and a member of the Rolling Stone Culture Council, and she hosts the incChat Twitter Space and podcast. She is regularly quoted as a brand and marketing expert in publications like Fast Company, MSNBC, The New York Times, Adweek, Harvard Business Review, Insider, USA Today, and others.

Cynthia has been a keynote speaker and hosted personal branding workshops for companies and organizations like Walmart, Alibaba, United Nations Women, Women Wireless Leadership, and Entrepreneur Magazine's E360, to name a few. In addition, she has been involved in influencer and marketing campaigns for PayPal, American Express Business Platinum Card, Dell, Staples, Adobe, Aly Bank, EY Entrepreneur of The Year Awards, and several other leading business brands. Cynthia is listed as Top Ten Personal Branding Experts by LA Weekly, Top Personal Branding Experts to Follow by Entrepreneur, Top Social Entrepreneurs All VCs Should Follow on Twitter by AdWeek, and Top Influencers Digital Marketers Are Following on Twitter by Inc.
While Jackie has spent much of career at two leading companies in technology, Netflix and Google, she started with humble beginnings as a daughter of Vietnamese refugees. She put herself through college at San Diego State with help from her first job in tech at the local Apple Store. It was there that she saw how integral and personal technology is to each person.
After graduating, Jackie went on to develop social media and content marketing for a startup in Venice Beach that created a platform for marketers to send mobile videos. When the company was acquired, EA Games tapped Jackie to launch popular games such as Sims, Monopoly, and Tetris Blitz on mobile and emerging devices. It was at EA that she developed partnerships with Google, Microsoft and household brands such as Hasbro.
When Netflix was still delivering DVDs and had just released their first major Original series, House of Cards, Jackie joined to help start their partner marketing team. Her tenure was an incredible 5 years of growth, spent launching Netflix globally. Jackie built the creative partnerships team in the US, Europe, then moved across the world to open the office in Asia.
She is currently at Google in San Francisco, leading brand partnerships for core products such as Google Search and Maps.
I've been involved in sports my entire life and it is my biggest passion. My uncle, Luis Polonia, was a pro-MLB player for teams such as the Angels and the Yankees and has multiple World Series Championship rings. Because of him, I went on to play softball for 17 years and was given the opportunity to play division 1 softball in college. I started my collegiate career in Maryland at Towson University and after 2 years I transferred to San Diego State University where I went on to win a Mountain West Conference Championship. After I finished playing, I knew I wanted to stay in sports and make a career out of it.
I began my sales career as an Inside Sales Executive with the LA Clippers where I led my class in revenue and excelled in providing an amazing experience for our fans. Since jump-starting my sales career in professional sports with the Clippers, I've received amazing opportunities throughout the years with numerous teams such as the LA Sparks, LA Dodgers, and San Diego Chargers/LA Chargers.
These amazing once-in-a-lifetime opportunities have now led me to where I am today which is creating memorable experiences for fans and developing the best sales team in the USL. I've been with San Diego Loyal going on 3 years now and started as a Ticket Sales Manager and was promoted to Director of Ticket Sales, Service & Membership with the San Diego Loyal Soccer Club and have recently been promoted to Vice President of Ticket Sales. I am the only woman Ticket Sales Vice President within our entire league and amongst one of the youngest VP's in the league.
Helen is a sales leader, fitness instructor, and personal coach.
She grew up in Boston, Massachusetts as the daughter of Chinese immigrants and concentrated in Psychology at Harvard College. After graduation, she moved to San Francisco to pursue a career in partnerships, working at LinkedIn, Pinterest, and now TikTok.
At TikTok, Helen leads a team of brand partnerships managers. Her team facilitates advertising partnerships on TikTok, inspiring joy and creativity through short-form mobile video.
Outside of work, Helen has always had a passion for movement and empowering others. These two passions come to life in her side hustles as a fitness instructor and personal coach. In her free time, Helen teaches yoga sculpt at CorePower Yoga and is also a professionally trained Co-Active coach, working primarily with young women in tech.
Poppy Jamie is an entrepreneur, influencer, and rising star in the happiness, mental health, and mindfulness space. She is the founder of the mental wellbeing app and corresponding product line Happy Not Perfect – which looks at mindfulness in a new way to guide its 100,000 users to feel happier, calmer, and less anxious. A deeply personal project combining behavioral scientific research, inspiration from her mother, and real life-experience, Poppy created Happy Not Perfect to inspire and empower people to care about their brains and thoughts with the same vigilance they tend to their faces and bodies.
As organizations worldwide grapple with how to manage the growing mental health crisis, Poppy provides a clear path to overcoming uncertainty, fears of rejection, anxiety, and burnout to find peace with the past and create a happier, healthier future. In her signature warm and relatable speaking style, she empathetically combines her own personal struggle with perfectionism and life purpose with cutting edge science to help groups tackle today's culture of anxiety and perfection and upgrade their headspace to be more curious, compassionate, and emotionally resilient.
The Happy Not Perfect app was born out of a clear need for a tool to deal with anxiety. A former television and social media host, after Poppy received hundreds of messages from viewers about their stress and anxiety, she decided to create something to help people better manage their mental wellbeing. Following four years of work with neuroscientists, researchers, and her neurotherapist mother, Poppy launched the award-winning Happy Not Perfect app to do just that – combining brain science and technology to change the way we look after our minds. In addition to the app, Poppy continues to share her wellness insights as host of the Not Perfect podcast – which charted in the top ten for mental health in Europe – where she interviews world experts and thought leaders to share wisdom, advice, and teachings around the mind, body, and soul. She is also the author of the book Happy Not Perfect: Upgrade Your Mind, Challenge Your Thoughts, and Free Yourself from Anxiety.
While developing Happy Not Perfect, Poppy also co-founded the fashion accessories brand Pop & Suki with actress Suki Waterhouse. The company's mission, along with selling bags, is to celebrate friendship and women working together. A TEDx speaker, Poppy was appointed as the youngest member of the Resnic Neuropychiatric Hospital Advisory Board at UCLA to help consult on the wellbeing of students. As a burgeoning mindfulness expert, she's taken part at the first mental health talk series at Cambridge University, lectured at the UCLA Wow Summit on brain health, and led Happiness Workshops for thousands of top brands and organizations across the U.S. and UK. She is also a Global Goals advocate for the United Nations.
For her activist work in mental health, Poppy has been named one of Forbes' '30 under 30,' Glamour's 'Most Empowering Nu-Gen Activists You Need to Know,' and W Magazine's 'Next Generation of Activists Making a Difference,' among others. She was also honored with the "Points of Light Award," handed to her by then Prime Minister Theresa May. In a personal letter to Poppy, May wrote, "Through 'Happy Not Perfect' you have created an innovative community to help people understand and manage their wellbeing. You should feel very proud of opening up conversations about this important issue." Poppy's unique insights have also been featured in major media news outlets including the New York Times, Wired, Fast Company, Refinery29, Forbes, Vogue, Bustle, Cosmopolitan, E!, NBC News, and MTV.
Poppy kicked off her career while studying at the London School of Economics when she became the youngest entertainment presenter at ITN, the UK's largest TV news organization. After graduating, Poppy moved to Los Angeles to work with MTV, ITV2, and Extra, and later launched Pillow Talk with Poppy – Snapchat's first talk show for an audience of more than 100 million viewers.
Krystal Nzeadibe was born and raised in the Bay Area and is a proud class of 2018 SDSU graduate. After completing her Bachelor's degree in Finance, she began a rotational development program hosted by Comcast NBCUniversal, rotating between 4 different finance and strategy teams across the East Coast.
Upon completion of the program, Krystal transitioned into the Corporate Strategy Team located in the company's Philadelphia headquarters. In this role, she completed various analyses to support C-level executives' strategic decision-making.
Today, Krystal is a first-year student at Harvard Business School where she is completing her MBA. Krystal aspires to pivot into the retail e-commerce sector and eventually launch her own venture. When she is not studying, you can find her working on the podcast she co-hosts with another SDSU alumna called "Black Girls Just Wanna Have Fun".
2022 Guest Speakers
Amanda Beard, Olympic Medalist, Author and Entrepreneur
Halima Aden, Former Model and Activist
Cathy Cooper, Program Facilitator and Author of Girls Inc.
Audra Dent, Head Beach Volleyball Coach of San Diego City College
Angela La Chica, President and CEO of LaChica Sports
Kathy Van Wyk, Retired Softball Coach of SDSU Softball
Amanda Nachman, Author of #Qualified and CEO of College Magazine
Cynthia Morena, Creative Content Designer
Mina Park,Chief Creative Officerof Crispy Chicken Social Media Agency
Megan Reyes, Social Media and Athlete Branding Consultant
2021 Guest Speakers
Ally Love, Host of the Brooklyn Nets, a Peloton fitness instructor, and the founder and CEO of Love Squad, a fitness and lifestyle website
Katie Sowers, Professional Football Coach
Jess DeBolt, Senior Client Partner of Twitter
Nidhi Ghai, Global Head of Ad Sales of Amazon
Amelia Lukiman, Global Communications of TikTok
Jackie Truong, Partnerships Lead and Brand Marketing of Google
Naz Arandi, Global Creative Director of Apple TV
Shavone, Founder, Magic. Agency Musician and Ford Model Director of VSCO
Nicole Gervais, Global Franchise Development and Marketing of Disney
Terri Hines, Executive Vice President of Communications of FOX Sports
Jennie Wilkes, Director of Global Creative Marketing of Netflix
Kristy Ryan, Community Impact Specialist of Pura Vida
Anahi Abe-Brower, Founder of Worthy Picks
Meri Birhane, CEO of Meri Consulting Services
Jasmine L Sadler, Founder of The STEAM Collaborative
Sivan Ayla Richards,Lifestyle Blogger of sivanayla.com
2020 Guest Speakers
Victoria Ashton, VP of People Go Site
Eriko Bailey, Vice President and Supply Chain of Pura Vida Bracelets
Heather Doyle, Zone Business Manager of Frito-Lay
Angelia Trinidad, Founder and CEO of Passion Planner
Allyson Felix, Nine-Time Olympic Track & Field Medalist
Lisa Graham, Sr. Director, Global Leadership of Adobe Systems
Susan McLain, SVP for Global Product Mgmt. of Disney
Ronda Sedillo, SVP and Chief Financial Officer of The San Diego Padres
Erin Taylor, Strategy Director, Food service of PepsiCo
2019 Guest Speakers
Amy Shelby, VP, Digital Marketing of The CW Television Network
Shelley Zimmerman, Retired Chief of Police of San Diego Police Department
Jennifer Fall Jung, Former CFO and SVP of Old Navy Global and Online Retail
Becky Harshberger, Payroll Tax Executive of Entertainment Partners
Kim Perell, CEO of Amobee
Zeynep Ilgaz, Founder, President and CEO of Confirm Biosciences
Kim Folsom, Co-Founder of Founders First Capital Partner
Vanessa Dawson, Founder and CEO of The Vinetta Project
2018 Panelists
Kathy David, president and CEO of IT TechPros Information Technology
Felena Hanson, founder of Hera Hub Workspace for Women
Gail Naughton, founder and CEO of Histogen BioTech (and former Dean of SDSU's Fowler College of Business)
Kimberly King, co-director of StartR and mystartupxx
Samantha Madhosingh, founder and CEO of ElevateHER Mindfulness
Amy Shelby, vice president of digital marketing for CW Television Network
Lydia Krasner, owner of Mitzvah Event Productions
Tamara Romeo, founder and president of San Diego Office Design and chair of the Lavin Entrepreneurship Center
SDSU Hosts Women in Entrepreneurship Lecture
2017 Panelists
Lonnie Ali, entrepreneur, philanthropist and (former) Vice President and Treasurer of GOAT, Inc. (Greatest of All Time)
Anne Marie Griffith, managing director for APG Asset Management
Marjy Stagmeier, founder of TriStar Real Estate investment and president of TI Asset Management