Charles W. Lamden School of Accountancy
Preparing Accounting Professionals to Shape the Global Business Environment
The school is named after Dr. Charles W. Lamden, who was the driving force in the founding of SDSU's College of Business Administration in 1955 and served as the college's first dean from 1955 to 1965. The school was the first accounting program in California and one of the first in the U.S. to gain accreditation from the Association to Advance Collegiate Schools of Business (AACSB) in 1982.
We have three active students organizations on campus—ALPFA, Beta Alpha Psi, and Student Accounting Society—and SDSU's Volunteer Income Tax Assistance (VITA), which has operated on campus for over 20 years and prepares over 800 individual federal and state tax returns each year.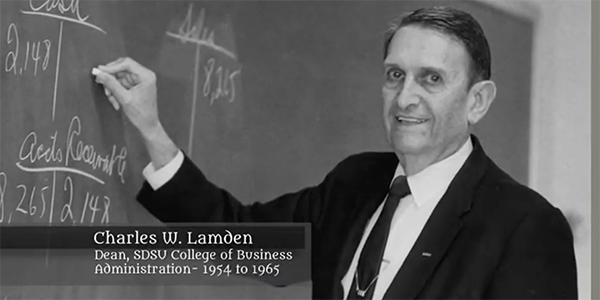 Our vision is to promote an educational environment worthy of students' and the accounting profession's trust through:
Rigorous and engaging academic programs that enable students to acquire theoretical and practical knowledge in the global field of accounting
Core values of the accounting profession—ethics, technical competence, communication, and global perspective—embedded throughout our academic programs to provide the foundation for our students to positively affect the dynamic business environment
Research and interactions with the business community that benefit our students and extend our reach to academics and professionals around the world.
Read our 2021-2022 Annual Highlights Report to see all that we have accomplished.
A position of involvement, support, and commitment to educational excellence.
The purpose of the Leadership Advisory Board (LAB) is to serve as a bridge between the business community and the Charles W. Lamden School of Accountancy (the School). The specific objectives of the LAB are to:
Promote opportunities for students to enrich their education through interactions with business professionals, internships, as well as facilitate job-seeking activities;
Provide guidance on curriculum and academic programs;
Support the solicitation and cultivation of private philanthropic support for the School;
Connect faculty with the business community to increase the impact of their research and teaching; and
Provide input on the continuous strategic planning of the School and how the School can enhance its impact on various stakeholder groups

Lindsay & Brownell, CPAsFounding Partner'95 MSA
Stephen J. Brownell

Board ChairBDO Seidman, LLP(Retired) San Diego Office Managing Partner'82 Accounting
Lee Duran

Lightfully BehavioralHealth CFO'86 Accountancy
Blaine Faulkner

Holthouse Carlin & Van Tright LLPPartner'89 Accounting
Victor J. Gonzalez

Ernst & Young LLPPartner, Assurance & Advisory Business Services'86 Accounting
Mike Howard

Lamden Family TrustPresident
Dr. William Lamden


RSM US LLPWest Market Leader'92 Accounting, '93 MST
Sam Mascareno

ShopCore PropertiesExecutive Vice President & CFO'88 Accounting
James Nakagawa

West Rhode & RobertsPartner'93 Accounting
Cheryl Rhode

Moss Adams LLP, Not-for-profit Services GroupPartner'91 Accounting
Laura Roos

PwCTax Partner'87 Accounting
Rick Rosas

Baker TillyTax Partner & Tax Practice Leader (SD & OC)Friend
Keith Troutman

DeloitteAudit & Assurance Managing Director
Jane Chau

Sempra EnergySenior VP, Controller & Chief Accounting OfficerFriend
Peter R. Wall

KPMGPartner'04 Accounting
Ryan Kennedy

Formerly Senior VP at SAICRetired Financial Executive & Educator
Paul Sager

PetcoVP & Controller'02 Accounting
Camille Alexander
CalCPA
As a CalCPA 100% Membership School, our full-time and part-time students who have never been a licensed CPA, nor achieved a bachelor's degree are eligible to apply for free student membership.
Accountancy Programs
The Charles W. Lamden School of Accountancy offers bachelors and masters degree programs, including a combined 4+1 bachelors-masters (BMACC) program. Our degree programs prepare students to meet the education requirements for the CPA exam and other professional accounting examinations
Charles W. Lamden School of Accountancy alumni have gone on to either found or serve in executive level positions in Big 4 accounting firms as well as companies such as Volcom, Qualcomm, SAIC, Sempra Energy, San Diego Zoo, WD-40, Taylor Guitars, San Diego Gas & Electric, and Karl Strauss Brewery.
Get In Touch
Follow our Social Media @SDSUFowler
SDSU Fowler College of Business
5500 Campanile Drive
San Diego, CA 92182-8230
Take the Next Step
Ready to jumpstart your career? Apply now! Or, if you have any questions about the program, contact us via the Request Info button.