Dedicated to Developing Tomorrow's Ethical Business Leaders that will have a Positive Impact on Business and Society
The Fowler Scholars Program was created to educate and prepare a select group of Fowler College of Business students for accelerated and lasting leadership roles in global business and society. Student development will be based upon proven best practices in curricular and extracurricular programming combined with exposure and interaction with current business and community leaders. Students are selected holistically on a variety of characteristics – demonstrated leadership, ethical conduct, collaborative nature, initiative, and academic ability. This is a leadership program – not an honors program. The Fowler College of Business selects the complete student who has the potential to positively impact business and society based on their ethical grounding and well-rounded nature. The Program aims to develop their skills under the guidance of top faculty and professional mentors so that their impact will be maximized and potential turned into reality.
About The Fowler Scholars Program
The Fowler College of Business proudly announced its inaugural class of Fowler Scholars for the Fall 2018 semester. It is currently the most exclusive scholarship program within the Fowler College of Business, admitting four new students a year.
Great leaders acquire AND apply knowledge. A major tenant of the Fowler Scholars Program is that students are provided the advantage of advanced and directed learning within a small learning community and in turn will apply this knowledge in practical "real-world" settings.
Class of 2026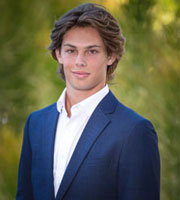 Major: Finance
Lucas Teel
Lucas Teel is a first year finance student at SDSU. While in high school, he interned in an Alzheimer's research lab at the Salk Institute for biological studies. He also created a club where he brought in local business leaders to speak about their career journeys in order to educate himself and his fellow clubmates. As of now, Lucas is unsure of his future career but knows he wants to be in a leadership position. He says, "I love to work with numbers but also with people, a job where I can work with both would be ideal." Lucas is very excited to be working with people who can challenge him and further improve his education.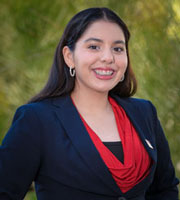 Major: Marketing with a specialization in IMC
Valeria Vizcarra
Valeria Vizcarra is a first year marketing student at SDSU and a Mexican-American entrepreneur from Imperial County, CA. During her time at Calexico High School, she participated in Varsity sports such as soccer, cross country, and track and field. In the course of the pandemic, she decided to take a different path from the typical student-athlete and began to immerse herself in the business world. Working since August 2020 in a local furniture business, Valeria specializes in brand awareness. Currently, the social media accounts she manages consist of Facebook (nearly 3,000 followers) and Instagram (nearly 500). Additionally, she learned the skills to create and maintain a website for the store. As she continued working there, she realized some of the advantages and disadvantages of the furniture industry, in particular the lack of art decor. Her solution was to begin a side hustle and paint abstract and modern wall art to sell to clients. Upon graduation, she graduated in the Top 20 of her class with Magna Cum Laude. She received a Seal of Biliteracy award, Outstanding Student for Marketing, Sales, and Service award, and an Entrepreneurship award. Valeria is also a certified Social Media Marketer. Her career goals are to obtain an MBA, own investment properties, and own businesses with the priority being a Social Media Marketing Agency aimed to encourage ethical business practices.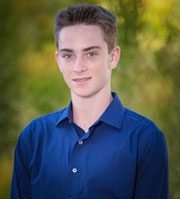 Major: Finance
Adam Ferdman
Adam is a first year finance student at SDSU. One thing about Adam is that, no matter what it is, he always tries to be the best at what he does. He describes himself as hardworking, determined, and ambitious. When a goal is set, he doesn't stop until it is complete. Additionally, he's compassionate, caring, and respectful. One of his core values is that he wants to see everyone around him happy and successful.
An accomplishment he is proud of is managing his own reselling business where he resells rare sneakers and video consoles including PlayStation 5s and Xbox Series Xs. Adam has owned this business for over three years now, but views it more of a hobby because he enjoys learning about the different types of gaming communities. He hopes to pursue a career in finance as a financial advisor for a company or by starting his own financial advising agency. Adam's ultimate goal is to be in a position where he can give back and support his community.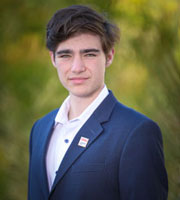 Major: Financial Services
Connor Lamp
Connor is a first year student at SDSU majoring in Financial Services in the Fowler College of Business. He found his passion for personal finance in high school byopening up an investment account and encouraging many of his friends to do the same. He has taken the initiative to speak with owners of multiple financial firms to learn the processes of opening and operating a business.. He describes himself as someone who is always willing to learn and hear other people's perspectives. After graduating from San Diego State University, he hopes to pursue a career in personal finance and wealth management andone day own his own financial planning firm. In the Fowler Scholar Program, Connor is most excited to build meaningful connections and learn proper business ethics from ethical business leaders.
Class of 2025
Major: Management with a Specialization in Human Resource Management and double minoring in Communication and Digital and Social Media Studies
Cooper Craven
Cooper is a second year HR management student at SDSU. During Cooper's first year at San Diego State University, he has joined on-campus organizations such as Rotaract of SDSU and currently serves as the Voter Registration Lead for the SDSU Rock the Vote initiative and Vice Chair of the External Relations Board. After graduation, Cooper aspires to become an expert in management and work in human resources for a nonprofit or a company in the entertainment industry. His main goal is to positively impact the world around him by "working for a company that either puts smiles on people's faces through entertainment or helps disenfranchised individuals improve their quality of life." Craven shares that his favorite part of the Fowler Scholars Program is being a part of a "community of like-minded individuals who are not just seeking goals similar to my own, but are willing to help me learn and grow together both inside and outside of the classroom."
Major: Management
Isabella Murillo
Isabella is a second year student at SDSU majoring inBusiness Management because she wanted to learn about the building blocks and inner workings of a business. After gaining leadership experience in high school, she realized that one thing all companies have in common is their underlying structure and organization to achieve a common goal, which is why Isabella chose Management as her major. The Fowler Scholars Program has allowed her to learn what it's like to be an efficient leader under extenuating circumstances. The programhas taught her that regularly practicing patience and morality will benefit you and your company in the long run which is something most professionals won't learn until it's too late. Isabella hopes to work at the SDSU Global Campus because of the academic opportunities it presents to its students. With opportunities to take degree or certificate programs online, people are able to advance their education even under difficult circumstances. She states, "my dad is not only my biggest role model but also, my number one supporter. As a first-generation American, mydad grew up in an environment where it was considered your destiny to pick in the fields. Despite all the financial and social obstacles he faced, he was able to rewrite his story which gives me the courage to work hard and accomplish whatever Iputmy mind to." She is very passionate about philanthropy and aspires to run a nonprofit that targets poverty and education in Hispanic communities.
Major: Accounting
Katherine Tat
Katherine is a second year accounting student at SDSU. Always aspiring to continue her personal growth, Katherine has been determined to be involved on campus. During her first year, she joined the SDSU Vietnamese Student Association board to develop her self-confidence and team management skills. Taking advantage of the leadership and volunteer opportunities presented to her allowed Katherine to build her network and resume. Currently, she is working at Paragon Accountants as a part-time Staff Accountant where she is gaining experience in bookkeeping and tax preparation. She hopes to further explore her interests in accounting through internships before deciding which career path to take following graduation. Katherine is proud to have joined the Fowler Scholars Program because it allows her to be a part of a hands-on learning community that focuses on developing and applying skills needed to succeed in today's business world.
Major: Financial ServicesMinor: Statistics
Brian Martinez
Brian is a second year finance student at SDSU. Once people get to know Brian, they would describe him as analytical and competitive. Finance is the most quantitative and competitive field in business and that is what attracts him to it. His curiosity and inquisitive nature has led him to pursue a career in investments because he has the opportunity to research and create solutions for clients. He is forever grateful to be a part of the Fowler Scholars Program because of the resources he's been provided to succeed in his post-graduation career. Brian is a huge believer in leadership and currently serves asthe Vice President of Program Management for the Finance and Investment Society . He got involved with this organization during his freshman year because it provided him with the opportunity to develop his skills as a finance student and network with alumni that now work in high finance. The best advice he's received is to live a balanced life. Sometimes, he forgets to take care of himself or have fun because if he's not in class, he's working, doing homework, or at the gym. This advice has helped Brian learn how to balance his personal, academic, and professional life to have the best experience at SDSU.
Class of 2024
Major: General Marketing
Rhys Aiem
Rhys Aiem is a third year in SDSU's Fowler College of Business majoring in Marketing. Marketing allows Rhys to express his creative side in business. In the past, he was a Finance major, but the black-and-white nature of finance encouraged him to find something where he could utilize his people skills and find ways to fix problems in the world of business. To him, being a Fowler Scholar means being a leader witha responsibility to be the best version of himself, both personally and for the program. Rhys is proud to call himself a Fowler Scholar andknows his experiences have shaped him into an ethical leader among his community. Communicating and networking with C-Suite Executives from various companies on a weekly basis has been the most impactful experience of the program by far. Their lessons and advice have been beneficial in deciding which career path he wants to pursue and the steps he should take to achieve those goals. Following his time at SDSU, Rhys hopes to attain a Master's Degree in the Sports Management Program at SDSU. Working in a professional sports team's front office has always been a dream of his and is where Rhys hopes to start his career.
Major: Marketing, with a Specialization in Professional Sales and Sales Management
Karl Hedberg
Karl is a third year student in SDSU's Fowler College of Business majoring in Marketing with a specialization in Professional Sales and Sales Management. To Karl, "being a Fowler Scholar means that I am the face of the business school. It means that I need to lead by example and be a mentor to others in the business college on campus and support them through their endeavors at SDSU." The Fowler Scholars Program has given Karl access to a mentorship unlike any other. His professional mentor, Jim Kalb, is an incredible man who giveshim insight on the real world, builds his professional network, and connects him with internship opportunities. After graduation, he hopesto work in the alcohol distribution sales industry or the pharmaceutical sales industry. Karl plans on interning within one of these industries this summer. Outside of class, Karl is an active member of the Men's Lacrosse team and loves every second of it. Lacrosse is one of his passions and being the starting goalie on the team has taught him so much about leadership and teamwork.
Major: Marketing
Gaby Mabey
Gabriella Mabey is a third year in SDSU's Fowler College of Business majoring in Marketing. She always knew she wanted to work in business, but marketing stood out to her becauseshe can express her creativity within content and branding and is intrigued by theanalytics and research behind what influences consumers to purchase products. Gabriella views being a Fowler Scholar as a great honor. To her, "it means being the next generation of ethical business executives and leaders. The knowledge that we learn in class prepares each student for their careers post-graduation and gives us real world knowledge that you can't get in any class. My professional mentor, Mary Curran, has been the most impactful person in this program." Curran is the most valuable resource to Gabriella and is full of information on the business world. After graduation, she would like to work for a fashion or cosmetics company as a product marketing manager, content marketing specialist, or creative director. All of these paths would allow her to have creative freedom and to do what she loves.
Major: Finance and Film
Zachary Lafer
Zachary Lafer is a third year in SDSU's Fowler College of Business double majoring in Finance and Film. He has been interested in finance, specifically in money management and the real estate market, for his whole life as he grew up learning about real estate and often watched houses be renovated. He also loves film recently found a passion for writing movies, which is why he decided to take on a second major. Given his many interests, Zachary would be happy pursuing a career in movie production, real estate development, or investments. To him, being a Fowler Scholar means representing the business school in a positive and productive way. He appreciates meeting and networking with inspiring business leaders. The people who are successful in their personal and business lives stress how it is possible for him to attain his dreams.
Class of 2023
Major: Accounting
Natalie Soriano
Natalie is a fourth year in SDSU's Fowler College of Business majoring in Accounting. She is currently involved with the SDSU Ambassadors and joined the organization because she loves "serving others, and having the chance to serve prospective students alongside a new family of dedicated peers." She was previously involved with the Student Accounting Society, a role in which she helped current Accounting students learn about the field and make meaningful professional connections. The most impactful experience that Natalie has had as part of the Fowler Scholars program was back in the Fall of 2019, when she had the opportunity to deliver a speech at a formal donor event. Although nerve racking at first, with the help of her program advisors and peers, she found she was, "able to craft a concise and impactful speech that resonated with the donors at the event and that moment made me confident in my ability to succeed as a Fowler Scholar." For the past two summers, Natalie has completed internships with Ernst & Young, namely their Launch Internship in 2021 and their Audit Client Serving Internship in 2022. Following graduation, Natalie will be joining Ernst & Young as an Assurance Staff and will be studying for her CPA.
Major: Accounting
Brady Burcin
Brady is a fourth year in SDSU's Fowler College of Business majoring in Accounting. He shares that being a Fowler Scholar is an honor and that the most impactful experience in the FSP program was meeting Ron Fowler, "he has already left a lasting legacy and I want myself and the Fowler Scholars Program to be the vehicle that carries that legacy on while continuing to give back to future generations of business leaders." Brady is pursuing a CPA and has accepted a full-time offer at Ernst & Young. He eventually hopes to work his way up to the partner or executive director level within the firm. He also shares that outside of public accounting, he would enjoy a senior management position, such as CFO, for a major corporation or professional sports team.
Major: Management with a Specialization in Human Resource Management
Azareel Gesuri Canizales
Azareel G Canizales is a fourth year in SDSU's Fowler College of Business majoring in Management with a specialization in Human Resource Management. On campus, he currently serves as the Executive Vice President of Rotaract of SDSU, which is a Rotary sponsored organization focused on service, leadership, and professional development. Azareel was also on the College of Business Council for the Society of Human Resource Management (SHRM). Additionally, he serves on the Hispanic Serving Institution Advisory Board for SDSU. He is passionate about organizational strategy and helping others excel and grow within an organization, and that is exactly what HR is for. Azareel hopes to become a Chief Human Resource Officer or Chief People Officer. Along the way, he plans to climb the ladder of different HR levels while always prioritizing giving back to his community.
Major: Marketing, with a Specialization in Professional Sales and Sales Management
Khai Nguyen
Khai is a fourth year in SDSU's Fowler College of Business majoring in Marketing with a specialization in Professional Sales and Sales Management. Fowler Scholar. President. Kayak Fisherman. Digital Creator. These are just some of the words used to describe Khai. He credits the program for opening him to new opportunities and instilling in him the confidence to become a leader. Currently, he serves as the President of Alpha Psi Rho, the only Asian Pacific-Islander interest Fraternity on campus. He is also involved in a multitude of student organizations including Alpha Kappa Psi, American Marketing Association, and AB Samahan. Khai also has many hobbies withhis most recent being kayak fishing - "fishing is my destresser and I am able to explore much more on my kayak." Post-graduation, Khai is looking to join the tech industry, specifically SaaS, in the sales department. He imagines himself finding his home early in his career, so that he and the organization excel and prosper together. His student leadership experience has taught him the importance of implementing strategies and defining your teams' roles. In his career, he hopes to work his way up the company hierarchy to hold a position of leadership.
Our Alumni
The Fowler Scholars Program was established in 2018 with the first cohort of students recently graduating. Read more about their post-graduation careers here.
Major: Finance Real Estate Acquisitions Intern at Pierce Education Properties Linked In
Davis Boring
Major: Information Systems IT Compliance at Moss Adams Linked In
Rachel Magers
Major: Accounting Assurance Associate at PwC Linked In
Landon Delgadillo
Major: Accounting Special Education Masters Student at Western Governors University Linked In
Faith Goh
Contacts



If you are interested in learning more about contributing to or creating an endowment fund in support of the Fowler College of Business, we invite you to contact Sheona Som.