CURRENT RANKINGS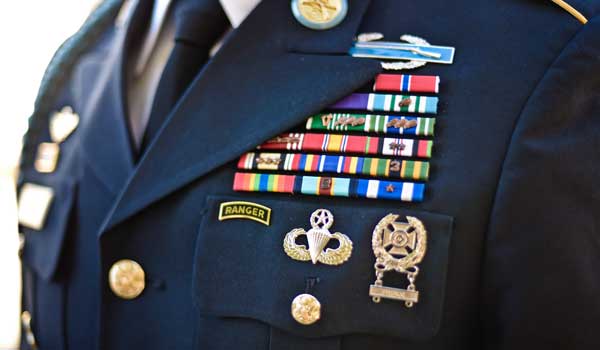 Top Veteran Friendly School
"Best-of-the-Best"
U.S. Veterans Magazine, 2022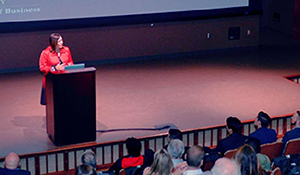 #42 Part-Time MBA Program
(Public), #68 Nation
U.S. News & World Report, 2024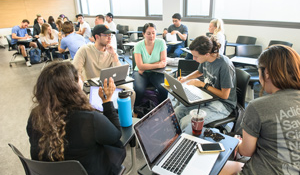 #11 Entrepreneurship
(Public), #30 Nation
U.S. News & World Report, 2023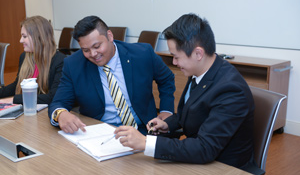 #6 Undergrad International Business
(Public), #13 Nation
U.S. News & World Report, 2023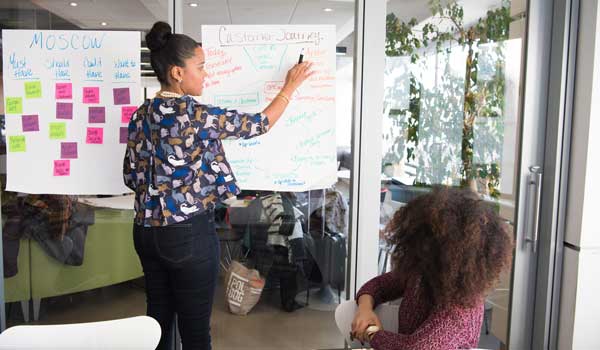 #19 Academic Standards
(Public) #47 Nation
Poets & Quants, 2023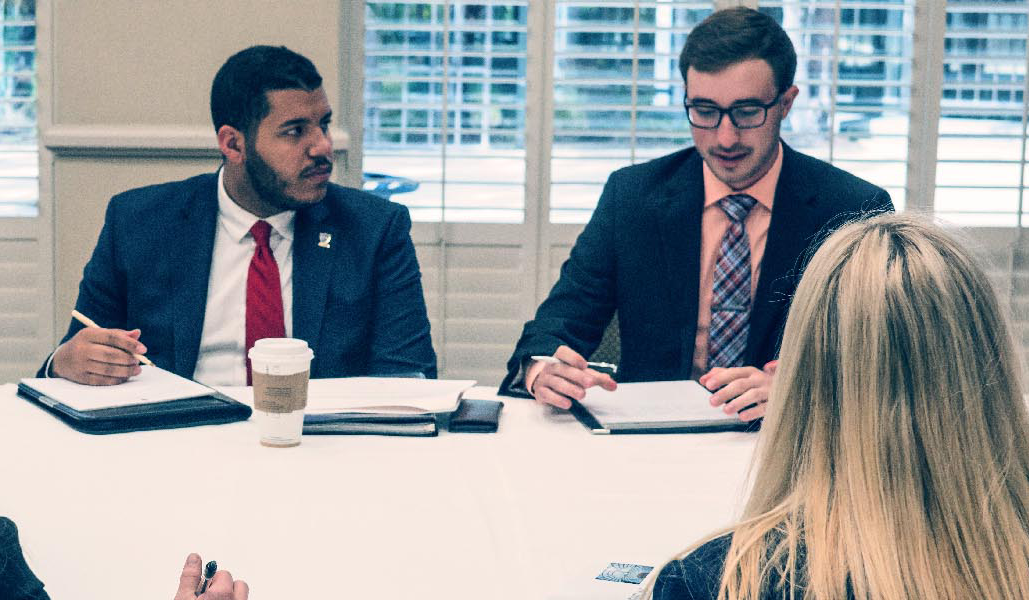 #35 Career Outcomes
(Public) #79 Nation
Poets & Quants, 2023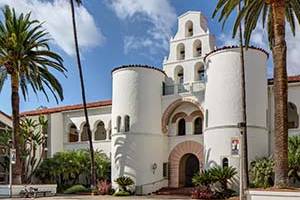 #31 Best Business Program
(Bachelor)
Best Accredited Colleges, 2023
| | | | |
| --- | --- | --- | --- |
| 2023 | Nation | Public | Source |
| Part-Time MBA Program | #57 | #35 | U.S. News & World Report |
| 2022 | Nation | Public | Source |
| Part-Time MBA Program | #53 | #34 | U.S. News & World Report |
| Undergraduate Business Programs | #74 | #47 | U.S. News & World Report |
| International Business (Undergrad) | #8 | #5 | U.S. News & World Report |
| Best MBA AACSB Accredited Programs | #46 | #21 | University HQ |
| 2021 | Nation | Public | Source |
| Part-Time MBA Program | #55 | #34 | U.S. News & World Report |
| Undergraduate Business Programs | #81 | #50 | U.S. News & World Report |
| International Business (undergrad) | #8 | #4 | U.S. News & World Report |
| Entrepreneurship (undergrad) | #36 | #14 | U.S. News & World Report |
| 2020 | Nation | Public | Source |
| Part-Time MBA Program | #81 | #54 | U.S. News & World Report |
| Undergraduate Business Programs | #79 | #49 | U.S. News & World Report |
| Entrepreneurship (undergrad) | #37 | #17 | U.S. News & World Report |
| International Business (undergrad) | #11 | #5 | U.S. News & World Report |
| Sport Business Postgraduate | #14 | #8 | SportBusiness |
| 2019 | Nation | Public | Source |
| Top Veteran Friendly School | "Best of the best" | | U.S. Veterans Magazine |
| Part-Time MBA Program | #118 | #70 | U.S. News & World Report |
| Undergraduate Business Programs | #87 | #51 | U.S. News & World Report |
| International Business (Undergrad) | #13 | #5 | U.S. News & World Report |
| Sport Business Postgraduate | #6 | #4 | SportBusiness International |
| 2018 | Nation | Public | Source |
| Full-Time MBA Program | #90 | #44 | Bloomberg BusinessWeek |
| International Business (undergraduate) | #12 | #5 | U.S. News & World Report |
| Sport Business Postgraduate | #7 | #5 | SportBusiness |
| Undergraduate Business Program | #91 | #57 | U.S. News & World Report |
| Part-Time MBA Program | #95 | #53 | U.S. News & World Report |
| Best Bachelor's in Human Resources Degrees | #4 | | College Choice |
| Top Veteran Friendly School | "Best of the best" | #3 | U.S. Veterans Magazine |
| Best Online Business Degree Program | #7 | #5 | Best Colleges Website |
| 2017 | Nation | Public | Source |
| Full-Time MBA Program | #84 | #41 | Bloomberg BusinessWeek |
| Sport Business Postgraduate | #4 | #3 | SportBusiness |
| Best Undergrad Marketing Program | #34 | #19 | College Choice |
| 35 Best Information Technology Programs | #12 | #5 | College Choice |
| 50 Best Value Bachelor's in Business | #28 | #27 | Best College Values Degree Programs 2017 |
| Part-Time MBA Program | #136 | #82 | U.S. News & World Report |
| Undergraduate Business Program | #77 | #48 | U.S. News & World Report |
| International Business (undergraduate) | #14 | #5 | U.S. News & World Report |
| Top MBA Programs | "Best of the best" | | Hispanic Network Magazine |
| Top MBA Programs | "Best of the best" | | Professional Woman's Magazine |
| 2016 | Nation | Public | Source |
| Full-Time MBA Program | #86 | #42 | Bloomberg BusinessWeek |
| Part-Time MBA Program | #109 | #63 | U.S. News & World Report |
| Undergraduate Business Program | #93 | #58 | U.S. News & World Report |
| Entrepreneur Program (undergraduate) | #21 | #8 | U.S. News & World Report |
| International Business(undergraduate) | #9 | #5 | U.S. News & World Report |
| Best for Vets: Business Schools 2016 | #20 | #15 | Military Times |
| MBA Programs by Salary-to-Debt Ratio | #9 | #5 | SoFi |
| Top MBA Programs | "Best of the best" | | Hispanic Network Magazine |
| Top MBA Programs | "Best of the best" | | Professional Woman's Magazine |
| 2015 | Nation | Public | Source |
| Undergraduate Business Program | #93 | #58 | U.S. News & World Report |
| Undergraduate International Business Program | #10 | #5 | U.S. News & World Report |
| Graduate Business Program | #87 | #50 | U.S. News & World Report |
| Best Value Master's of Management Programs | #16 | #6 | Value Colleges |
| Part-time MBA Program | #101 | #58 | U.S. News & World Report |
| Best MBA Schools for Veterans | #17 | #12 | Military Times |
| Top MBA Programs | "Best of the best" | | Hispanic Network Magazine |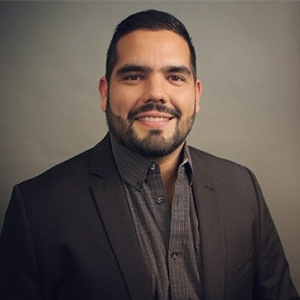 Pursuing the MBA program at SDSU Fowler College of Business has been one of the best decisions I've made in my career. The program prepared me with the skills essential for a career in management consulting at Deloitte. In particular, professors are very attentive to each student and provide the tools required to make the best of our education. In addition, the university staff provides very valuable resources for career engagement opportunities as well as alumni networking. Finally, my classmates in the program know the importance of collaboration and teamwork. We all had very diverse backgrounds, which truly allowed me to explore and understand other industries in society.
Enrique Schulz
'19, MBA
"I decided to major in entrepreneurship because I've always had a goal that one day I want to "be my own boss." While I do believe, as an entrepreneur, there's a lot of things that you have to learn from real-world experience, I thought that the opportunity to get a degree focusing on business and entrepreneurship could help me get closer to achieving my goal."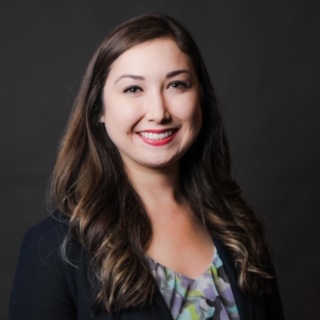 The personal mentorship that each professor at SDSU offers, not only helped me discover the correct career path but also better prepared me for the business industry long term. Whether it is the campus career fairs or various networking events, the Fowler College of Business sets its students up for success by connecting them with the right people. I will forever value the relationships I gained as a student and now as a proud alumni.
Heather Doyle
'16, Marketing
"The Fowler College of Business provided me with a multi-faceted opportunity to learn; in the classroom, from the professors' vast professional experience, and through my own hands-on extracurricular involvement. Each was crucial to enabling what I have achieved today and I am so grateful for that!"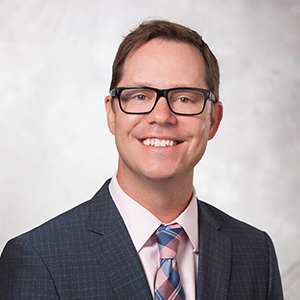 SDSU's MBA program is a truly immersive and collaborative experience, designed to set up each student for success in their particular career. From opportunities to interact closely with professors, build networks, and consult with small and large companies on actual projects, SDSU has created a well-rounded, thoughtful curriculum with each student's success as its primary focus. I'd recommend the program to anyone.
Jacob Spaid
'09, Management; '14, MBA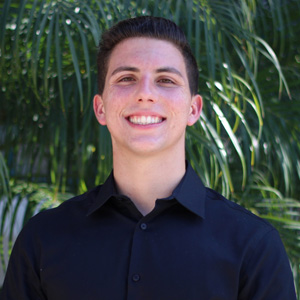 Arliegh Boswell, '20, Finance
Senior Account Executive, Gosite
"SDSU taught me to be bold, be courageous, and to be my best no matter how tall the task."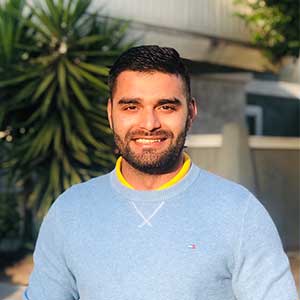 Mayank Kapoor, '19, MSIS
IS Business Analyst, Amgen
"The MSIS program at SDSU has given me a lot more than I expected. I chose to pursue this degree at SDSU because the program covered a wide range of areas that I had some experience in, but wanted to expand upon. It provided me with the credentials and acumen to pursue my aspirations in the tech industry, which tremendously helped me get a job right after graduating as a Business Systems Analyst in the top Biotech company - Amgen. I really enjoyed the MSIS program at SDSU. Studying with other students from all over the world and a wide variety of professional backgrounds was a great experience for me. The small class sizes, group projects, career fairs, in-class interactions and phenomenal support from the professors was extremely valuable."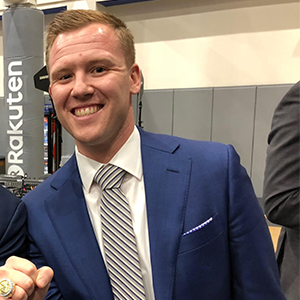 Dominic Lucq, '14, SMBA
Manager, Partnership Sales, Golden State Warriors
"SDSU's Sports MBA Program succeeds due to the institutional support students receive from program administration and professors who strive to provide real world application to curriculum."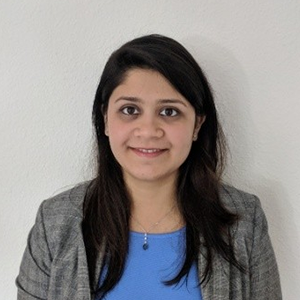 Shruti Namjoshi, '19, MBA
Analyst, Information Lifecycle Management
"After working in the technology industry for several years, I wished to switch my career track to being a techno-functional resource who understands both technology and business. When I decided to pursue my MBA from San Diego State University, it helped me build my career profile just the way I wanted it to be. The variety of subjects and techniques employed by the university in the MBA program developed my personality and helped me gain a deeper understanding on different topics. The professors and advisors have been very understanding, encouraging and supportive and have always guided me along the way!"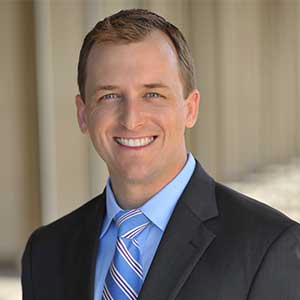 Christopher Quinley, '19, MSBA
Certified Financial Planner(TM) Professional, Liang & Quinley Wealth Management
"Getting my Master of Science in Business Administration (MSBA) with a concentration in Financial & Tax Planning has helped me in my career tremendously. It demonstrates to my clients I've taken the additional step to provided the highest level of financial planning recommendations possible. I've received great feedback from my clients and I'm grateful SDSU has a Masters degree specifically designed for financial planners."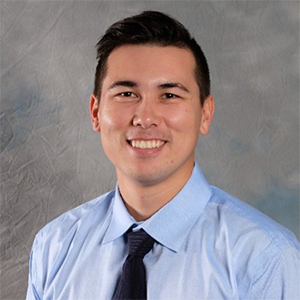 Liam Sharkey, '19, MBA
Events Manager, San Diego Bowl Game Association
"The MBA program at SDSU was the best investments of time and money I have made in my career. With a non-business undergraduate degree, the combination of comprehensive core courses and real world experience gained over the two years was very beneficial for my career transition. Shortly after graduation I was offered a great job with a non-profit I interned for during the program. I could not be happier with my decision to become an Aztec!"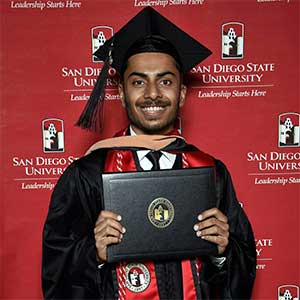 Monish Thakore, '19, MSIS
"I was positive that the MSIS program provided by Fowler College of Business would help me excel in my career and now I could say that it definitely did! The MSIS degree has given me the power of knowledge to excel in my life and career in the field of Business Analytics. The value it has created for me is immense and it landed me my current job of being a Consultant. My advice to current students is just one word – Networking! I cannot tell you how important it is. Go to each and every event organized by Fowler College of Business or by SDSU, make connections, and more importantly be in touch with the people you network with. Apart from the university events, join Meetups related to your field/career. It will help you meet people in your field and will also help you gain knowledge about the real problems out there in your field."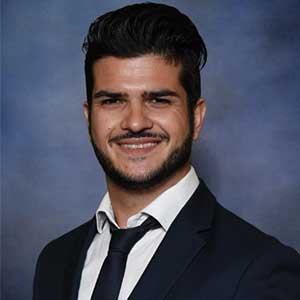 Alessandro Vomero, '19, MSIS
Search Language Specialist, QA Engineer, Google
"The day I decided to start the MSIS program at San Diego State University is the day I accepted one of the biggest challenges of my life. Starting a new life, with new people, new languages (both spoken and programming), far from family and lifetime affects was scary and overwhelming. During my time at SDSU I never felt abroad and thanks to the faculty members, classmates, and students I always had the support I needed especially in difficult moments. All the challenges and the struggle paired with the support received made me feel proud of being an Aztec and drove me to work in a world class tech company."
Get In Touch
Follow our Social Media @SDSUFowler
SDSU Fowler College of Business
5500 Campanile Drive
San Diego, CA 92182-8230
Take the Next Step
Ready to jumpstart your career? Apply now! Or, if you have any questions about the program, contact us via the Request Info button.