MSGBD Alumnus Uses International Experience to Land Business Development Position
Thanks to the worldwide COVID-19 pandemic, 2020 was not an ideal time to graduate from college and begin a job search.
But that was the situation Adnan Hamdani was facing when he completed his bachelor's degree at the American University in Dubai. While he was able to secure a position as a project management consultant there, he wanted to go further in his career with his experience as a sales and business development professional.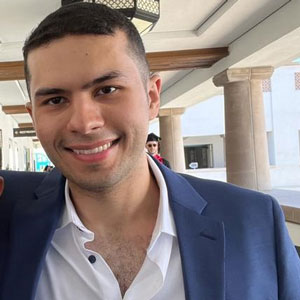 "Our family has a deeply rooted tradition in higher education, and I was compelled to pursue a master's degree after I completed my undergraduate studies in Dubai," said Hamdani. "When I began comparing graduate programs, my diverse international background led me back to my hometown of San Diego in pursuit of a program offering a global experience."
Hamdani's search ended when he came upon the Master of Science in Global Business Development (MSGBD) degree program at the Fowler College of Business at San Diego State University.
"The MSGBD degree program stood out to me for its innovative approach to business development," said Hamdani. "I liked its emphasis on both the theoretical concepts combined with the real-world applications and it was exactly what I was looking for."
The curriculum in the MSGBD program was created for students who want to advance their careers in international business with a focus on global sales and business development. This unique one-year specialized program has students working in consulting projects with three global companies and culminates in a summer-long project where students interact with corporate executives within an international organization.
Hamdani said he knew he made the right decision to enroll in SDSU's MSGBD program almost immediately.
"My global background made this program a great fit for me, and it was further enhanced by the diverse, international student cohort that I had the pleasure of knowing and working with," he said. "Beyond the significant personal growth I experienced during the program, it also gave me a new perspective on leveraging my previous international experiences to cultivate new business relationships."
After completing the MSGBD program in August 2022, Hamdani remained in San Diego where he began his position as a district sales executive with Fortune 500 global logistics company, Expeditors, shortly afterward. He said much of the credit for landing this plumb business development position goes to the lessons he learned during his experience at SDSU.
"My MSGBD experience provided me with a comprehensive understanding of business strategies, market dynamics, relationship development and network expansion which gave me an advantage during my job search and led to multiple opportunities for me," said Hamdani. "Those lessons learned, combined with my previous vast international business work experience, resonated with Expeditors' values and their demand for forward-thinking, innovative consulting professionals. This alignment gave me the tools I needed to excel in an interconnected, post-COVID international business landscape."