Fowler College of Business Launches First-of-Its-Kind Graduate Program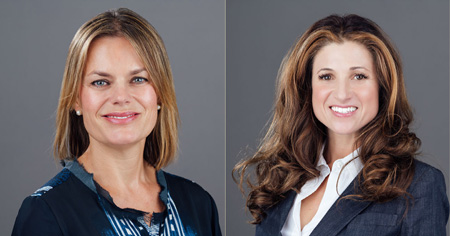 Management professor, Martina Musteen and marketing professor and chair, Heather Honea (right) were instrumental in developing the MSGBD program.
San Diego State University's Fowler College of Business has launched a first-of-its-kind Master of Science in Global Business degree (MSGBD) program, set to begin in the fall semester of 2021.
Responding to the needs of businesses to grow internationally, the MSGBD program -- the only one of its type in the nation -- is designed for students who seek to advance their careers in international business with a focus on global sales and business development. "While there are a number of graduate international business programs, there are none that would offer the same unique combination of courses specifically designed to instill skills and knowledge for global business development and sales," said Dr. Martina Musteen, SDSU management professor and co-director of the program.
The one-year specialized degree program will require students to complete 30-course units of graduate-level coursework culminating with an international consulting capstone class. "The capstone consists of a summer-long assignment that begins with a visit to a multinational company in another country," said Musteen. "The students learn about its operations, products and strategy on location. They also work with the executives to scope the project."
Czech brewery, Budweiser Budvar and La Lorraine Bakery Group, a Belgian multinational organization, are examples of companies participating in the capstone course.
The inspiration for the MSGBD degree program came from SDSU's undergraduate International Business (IB) program, which was recently ranked by U.S. News & World Report as the 8th best in the nation. "The MSGBD program offers top graduates of the IB program the opportunity to stay at SDSU and continue their education in international business with a specialization in business development and sales," said Musteen. "International business development and sales are an essential capability for global competitiveness across industries and an area of excellence within the Fowler College of Business."
Students interested in enrolling in the inaugural MSGBD program may apply starting October 1, 2020, through March 31, 2021.