Management Department Year in Review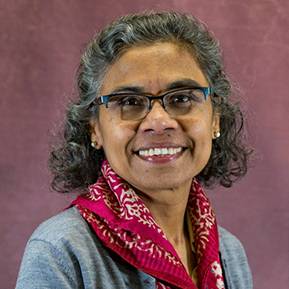 Chamu Sundaramurthy, Ph. D.,
Professor and Department Chair
I write with deep pride about the many continued accomplishments of our faculty and students. During this past academic year, 2021-22, our faculty have done a tremendous job supporting our students in returning to face-to-face instruction. In addition, faculty continued to expand their scholarship. We continued to innovate our curriculum and introduced a new freshman general education course in entrepreneurship, as well as a certificate in entrepreneurship aimed at reaching majors across campus. We are also fortunate to receive continued support from an actively engaged advisory board that is connecting us with the business community—and expanding resources and opportunities for faculty and students.
In addition to serving over 6,000 business students, the department provides special programs for over 1,300 Management majors and continues to be among the top 10 most popular majors on campus.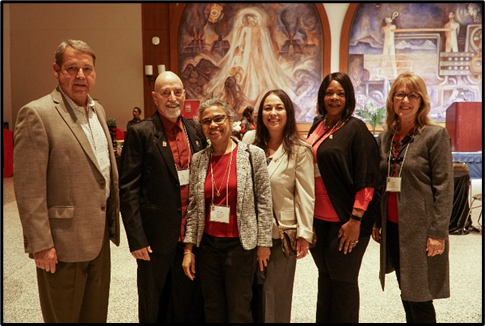 Management Board Members at Fowler All Boards' Event, March 2022
Active Management Department Advisory Board:
Curriculum Enhancements & Faculty Additions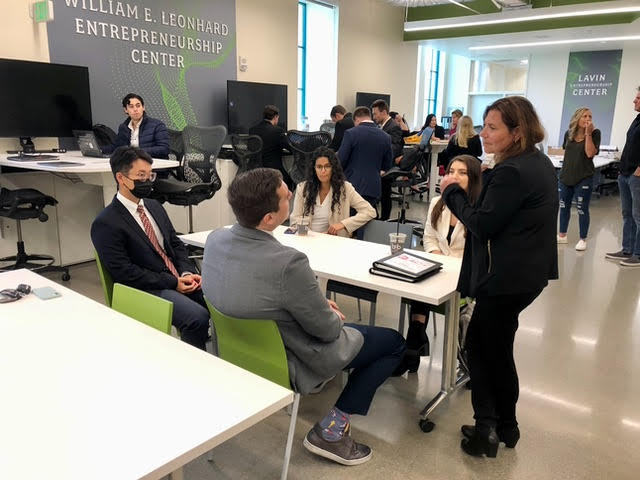 Aztec Consulting Groups & Mentors, May 2022
Launched in fall 2021, two redesigned core MBA classes: 1) organizational behavior and 2) strategic thinking.
San Diego SCORE chapter members advised students and judged presentations in the Aztec Consulting Program (BA 404)
Launching in fall 2022:

General education course in entrepreneurship for frosh.
Basic certificate in entrepreneurship for majors across campus.

Welcoming in the fall of 2022 two tenure-track faculty in Entrepreneurship and International Strategy:

Dr. Yue Song (Ph.D., Virginia Tech)
Dr. Yun Dong Yeo (Ph.D., University of Texas at Dallas)
Student & Alumni Spotlights: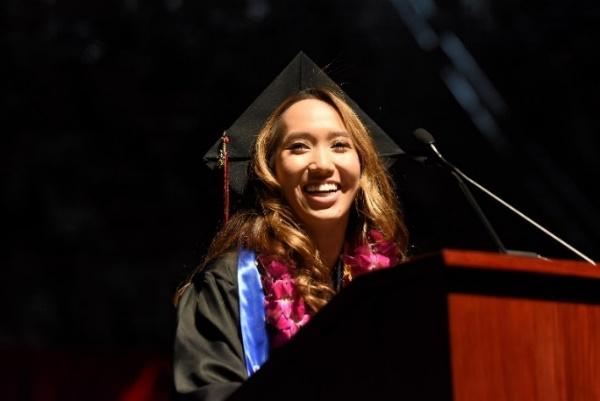 Grace Coulter, Outstanding Management Undergraduate and Fowler Valedictorian at the 2022 commencement ceremony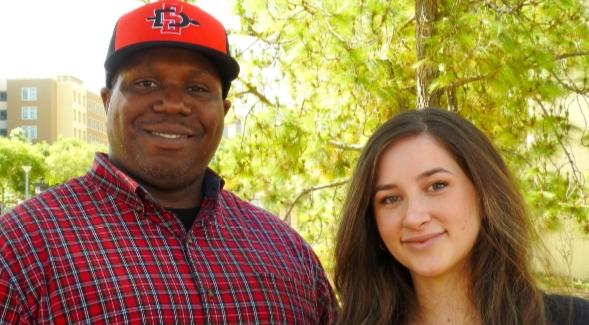 Carlin Pace & Setareh Sterlin
Management Faculty Accolades: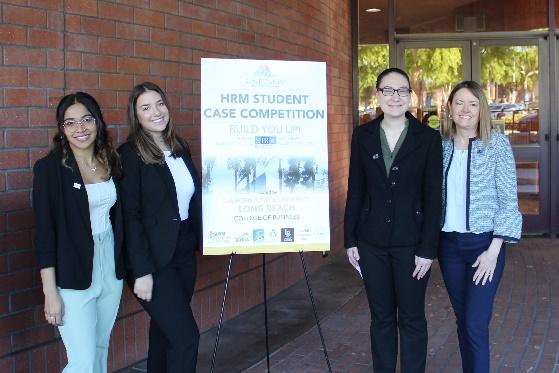 From left:
Vaishnavi Sridhar, Jordan Reyes, Hannah McGaughey and faculty advisor, Michelle Dean at the C
alSHRM HR Case Competition, March 2022
The department faculty collectively published over 65 articles over the last three years, with 15 published or accepted for publication this year in peer-reviewed, leading journals such as Journal of Management, Journal of Applied Psychology, Journal of World Business, Journal of Business Research, and British Journal of Management, among others. Check out:

Research on Inclusion and Diversity conducted by Beth Chung and other management faculty associated with the Institute for Inclusion and Diversity in Organizations.
Award-winning research by Taekjin Shin on CEO's language and dismissal.
Research by Martina Musteen and Mujtaba Ahsan on the long-term effects of COVID-19 on the garment industry's supply chain.

Under the executive leadership of Alex DeNoble and with the wide engagement of management faculty, the Lavin Entrepreneurship Center hosted its eighth annual California Educators' Conference.
Three management faculty members were promoted to professor: Jeremy Bernerth; Michelle Dean; and Congcong Zheng. Congratulations!
Two of Valerie Alexandra's papers, were nominated for best paper awards at the 2022 national Academy of Management conference: one for the best paper on Diversity and Cognition by the Managerial and Organizational Cognition Division, and another for the best paper by the Organizational Development and Change Division.
Jeremy Bernerth received the Assigned Time Award for Research from the SDSU Office of the Vice President of Research and Innovation.
Dwarka Chakravarty was invited to serve on the editorial review board of a top journal in international business, Journal of World Business.
Michelle Dean, received the following awards: Most Influential Faculty Award recognized by the 2022 Outstanding Student in Management and Fowler Valedictorian, Grace Coulter, 2022 Best Faculty Involvement Award from the Fowler College of business council, and the Assigned Time for Exceptional Service to Students Award.
Martina Musteen received the 2021 Fowler College of Business Teaching Excellence Award and was also invited to serve on the editorial review board of the premier journal in international business, Journal of International Business Studies.
Amy Randel received the Most Influential Faculty Award recognized by Tristian Aradanas, the 2022 Outstanding Student in Accounting; and was among the Top 2% of Scientists cited in 2020 (Scopus).
Congcong Zheng received the Most Influential Faculty Award, recognized by Christopher Condron, the 2022 Outstanding MBA student.
We are proud of our graduates' and our many continued accomplishments!
Chamu Sundaramurthy, Ph. D.,
Professor and Department Chair