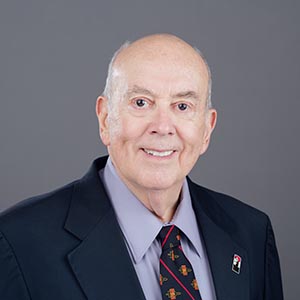 William Sannwald, M.B.A.
Lecturer
Management Department
Bio
William Sannwald was an Assistant to the City Manager and Manager of Library Design and Development from 1997 to 2004, and was City Librarian of the San Diego Public Library from 1979 to 1997. He now is a full time faculty member in the business school at San Diego State University, and works as a library building and administrative consultant. The San Diego Library serves over 1,300,000 people through a Central Library, thirty-five branches. Mr. Sannwald represented the City Manager on the City Retirement Board and in Labor Negotiations.
Read More…
He has worked in public libraries in Illinois, Minnesota, Michigan, and California, and also worked in a number of marketing positions for the Xerox Corporation's University Microfilms in Ann Arbor and the Chicago Sun Times.
Mr. Sannwald received His Bachelors Degree in Economics from Beloit College in Wisconsin, a MBA degree from Loyola University in Chicago, and a MALS from Dominican University in Illinois. He received a H.W. Wilson scholarship to attend Dominican University, where he was elected class president and selected for membership in Beta Phi Mu.
He was President of the 4,000 member Library Administration and Management Association, and has chaired the American Library Association's Architecture for Public Libraries Section. In 2003, he received the LAMA Leadership Award for his contribution to the Association. Sannwald was an elected representative to the Members Council of OCLC, an organization of 45,000 libraries in 89 countries dedicated to providing access to the world's information and reducing costs. He has presented papers at national and international conferences, and is the author of a number of books and articles on library architecture and management. He was a jury member and chaired the joint ALA/AIA awards ceremony in 1995 and 1997, and was a member of the first jury for the ALA/IIAD Design Awards in 2006. The San Diego Chapter of the American Institute of Architects presented him with their highest award, the Irving Gill Award, for his contributions to library architecture, and he received the San Diego design community's Ruocco Award for his contributions to urban architecture. During his career, he has been involved in the construction of over 50 library buildings as either a consultant or owner's representative. He was elected to the International Federation of Library Systems Standing Committee for Library Buildings and Equipment for 2007-2011.
Mr. Sannwald teaches a variety of upper division undergraduate and MBA courses in the management department at San Diego State University's Business School. He was selected as the most influential management professor, and received an award from the President of SDSU for the Outstanding Faculty Award in the Business School. He was recognized for his contributions to the University by the Associated Students and is a faculty initiate of the International Business Fraternity, Delta Sigma Pi. He was a visiting professor at the Graduate Library School, Dominican University in Chicago, and at the University of Maryland's Library Administrators Program.
Interests: Real Estate (Construction Issues) Corporate Governance Organizations (Non-profit) Organizations (Non-profit Governance) Real Estate (Building Issues) Business (Ethics)