Fowler Student-Driven Enterprise Given National Award For Bringing Fresh Produce to Underserved Communities
Fowler Student-Driven Enterprise Given National Award For Bringing Fresh Produce to Underserved Communities
BrightSide Produce, a student-driven enterprise within the Fowler College of Business at San Diego State University, has been recognized with a 2021 Innovations That Inspire Award by the Association to Advance Collegiate Schools of Business (AACSB) International. BrightSide Produce is a produce distribution service that delivers fresh fruits and vegetables to stores located in communities where residents experience food insecurity through lack of access, availability and means to purchase healthy food.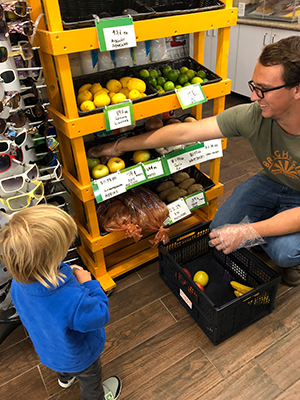 AACSB International, the organization that sets the standards of excellence for over 840 accredited business schools worldwide, honored BrightSide Produce for its work in "cultivating a position at the intersection of academia and practice." AACSB's 2021 Innovations That Inspire initiative showcases business schools creating positive societal impact. Now in its sixth year, the initiative has highlighted more than 160 business school efforts that exemplify forward-looking approaches to education, research, community engagement or outreach, entrepreneurship, and leadership.

"SDSU's Fowler College of Business has embraced the call to create positive societal impact and it is our privilege to recognize BrightSide Produce San Diego among the 2021 Innovations That Inspire initiative," said Caryn L. Beck-Dudley, AACSB president and CEO.

BrightSide Produce was established in 2017 by SDSU marketing professor Iana Castro — who is a known expert in the area of food retailing — to specifically address two challenges:
The need for an innovative student learning experience that could offer in-person preparation for the workplace, and
A solution to food insecurity, which is a pressing issue facing communities nationwide.
BrightSide Produce is managed by SDSU students who carry out operational functions as they gain valuable hands-on experience running a distribution business that operates as a non-profit. They also work with retailers to introduce, manage and grow a new product category (i.e., produce) to meet the needs of the local community.

"On behalf of myself, the students, and the partners who have contributed to BrightSide Produce's activities and have supported its efforts, we are honored to be recognized for the work that has gone into the organization and the good it has done for the community," said Castro. "At BrightSide Produce, our vision is for everyone to have access to fresh, affordable produce and we are working toward making this vision a reality."
To date, BrightSide Produce has delivered over 239,000 units of produce through weekly deliveries to 18 liquor, corner and small food stores, reaching thousands of store customers each week. In the National City area, where BrightSide Produce delivers to 13 stores, all of the city's 61,000 residents have access to fresh produce within less than a mile of their homes.