SDSU Alum Offers Free Health App During Stay-at-Home Order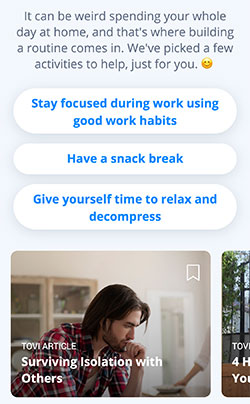 The TOVI Health app steers users toward healthy habits
SDSU Alum Offers Free Health App During Stay-at-Home Order
In 2016, two years after he earned his Executive MBA from SDSU's Fowler College of Business, Joel D'Eon launched his company, TOVI Health. The company developed and marketed an app that guides users toward healthy behavior patterns such as better eating habits, stress management and regular exercise.
The app was originally marketed to companies such as Cubic, TRI-AD and WD-40 that wanted to improve the health and productivity of their employees, however, TOVI has revised their business model in the wake of the COVID-19 crisis. The app now offers help for those who are in social isolation and under stress in response to the pandemic.
"TOVI starts by learning your current circumstances – laid off, working from home, student and so on – then asks you how you're feeling," explained D'Eon. "After TOVI determines the type of help you're looking for, the app can recommend healthy activities, tips, exercises and support to keep you mentally and physically strong while in isolation. As a result, the app will help you create new habits and routines."
D'Eon noted that the TOVI will not sell advertising space and is being offered free of charge during the crisis. "Right now, we are generating no revenue and we have redesigned our app solely for helping our community," he said. "Our next step is to learn about the challenges and needs of our users so that we can continue to evolve the app and support people as society transitions to what comes next.
The TOVI app will be available to the public at no charge starting April 27.