Faculty Members Passion for Gender-Equality Sparks Successful Leadership Forum
Faculty Member's Passion for Gender-Equality Sparks Successful Leadership Forum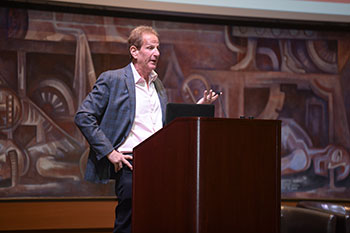 Steven Osinski at the podium during the 2020 Women in Entrepreneurship and Leadership event.
On February 27, 2020, SDSU's Fowler College of Business hosted the 4th annual Women in Entrepreneurship and Leadership (WIEL) forum, which has grown from a half-day event with two speakers in 2017 to its current full-day format of workshops, presentations and interactive discussions. The event is designed to provide SDSU students with the skills and confidence they'll need as they embark on their chosen careers.
A Witness to Troubling Circumstances
The WIEL forum was established by SDSU marketing faculty member and local entrepreneur, Steven Osinski, who was troubled by the "rampant sexism in the marketing community" shortly after he founded his first company, the Atlanta-based SMART Group, in the mid-1980's. As the CEO of the SMART Group, Osinski employed a number of "highly talented women who worked exceptionally hard but were not always taken as seriously by our clients as they should have been."
"Two specific instances really stuck with me," Osinski recalled. "In one instance, a client was very obviously gawking at one of my employees during a two-hour presentation. It was as if he didn't hear a word she said – he was just rudely staring at her. She was demeaned and I was disgusted. In another instance, a client told me that he didn't respect women in business, he didn't want to deal with them, and he threatened to terminate his account with us if I didn't accommodate his request."
When the SMART Group was purchased by TMP Worldwide (later the parent company of Monster.com) in 1998, Osinski became the organization's vice president of directional marketing and moved to San Diego after he and his wife "fell in love with the city."
Women in Entrepreneurship Forum Goes from Concept to Reality
After living in San Diego for a few years, Osinski left TMP Worldwide and began teaching marketing courses at the Fowler College of Business in 2008. In 2015, he took his service to SDSU a step further when he became the chair for the Lavin Entrepreneurship Center's advisory board. The following year, a fellow board member proposed the idea for the Women in Entrepreneurship forum. The initial concept of the forum was to invite successful women entrepreneurs to discuss the challenges they've faced and the lessons they've learned as they established and operated their own companies.
Given his experience as the owner of the SMART Group and as a great believer in "equality between the genders," Osinski was intrigued with the concept and offered to assist with the event. He soon found himself providing funding and promotional support, along with the additional responsibilities of serving as the forum's host and moderator. The inaugural forum took place on the afternoon of February 9, 2017 in front of approximately 200 people.
Osinski enjoyed the experience and was so passionate about its message, he vowed to sponsor the event on an annual basis. "I fell in love with the program's mission and decided to expand upon it," he said. "To ensure we had base funding, our family – in conjunction with the Fowler College of Business – created a $500,000 endowment to continue and expand this forum."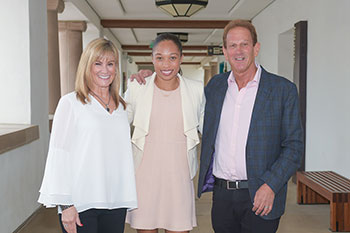 Ellen (left) and Steven Osinski (right) stand next to Olympic track star Allyson Felix
Evolving to the Next Level
With the additional resources, the forum has continued to evolve and, in 2019, it expanded its scope to become the Women in Entrepreneurship and Leadership (WIEL) event. The 2020 WIEL event was the largest so far with an audience of more than 1,200. It was also the first time the event featured a live appearance by an internationally known keynote speaker, Olympic gold medal winner Allyson Felix. Felix shared her experience as an advocate for companies to continue their sponsorship of female athletes during and immediately after their pregnancies.
While the 2020 WIEL event was a success on many levels, Osinski is hoping to take it to an even higher level. "Although I am pleased with our progress and acknowledge that the program has only been in existence for four years, my ultimate goal is to help position SDSU's Women in Entrepreneurship and Leadership forum as the nation's number one program for promoting gender-equality and diversity issues in the workforce for college-age students," he said. "Achieving this mission will require additional funding, more corporate support and the endowment of a full-time faculty member, and I am confident we will get there."