SDSUs Homegrown Artificial Intelligence Expert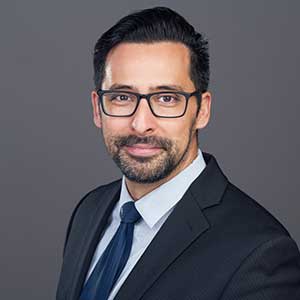 Aaron Elkins
SDSU's Homegrown Artificial Intelligence Expert
For Management Information Systems (MIS) professor, Dr. Aaron Elkins, all paths led to San Diego State University (SDSU).
Mom Blazed a Trail
For starters, Elkins' mother earned both a bachelor's degree in psychology and a master's degree in social work from SDSU after emigrating from Mexico and settling in San Diego, California.
Aaron started his academic journey in 2000 as a computer science student at a local community college before switching majors to MIS. He chose San Diego State, not because his mother was an alumna, but because "SDSU had a strong MIS program and an MIS degree would allow me to work with technology, people, and organizations, which is what I wanted to do," he recalled.
One of the Best in His Class
When Elkins graduated with his MIS degree in 2003, he was the top student in his major. This honor allowed him to sit on the stage during the Fowler College of Business commencement ceremony with his most influential professor, Dr. Bruce Reinig. At the time, Reinig was an associate professor at SDSU, having recently joined the university in 2000.
After graduating, Elkins stayed in San Diego and began working at a non-profit organization, AVID, which stands for Advancement Via Individual Determination. AVID trains teachers to help them prepare students for college. It was at AVID that Elkins became interested in education and research and, after working there for five years, he was encouraged by his co-workers to think seriously about pursuing his Ph.D. He also consulted with Reinig, who by that time was a professor and chair of SDSU's MIS department. Reinig encouraged Elkins to apply at the University of Arizona, which was Reinig's alma mater and one of the top-ranked universities in the nation within the field of MIS. Elkins' decision to apply to the University of Arizona would ultimately change his life in profound ways.
The Shift into Artificial Intelligence
It was also at Arizona where he met his academic advisor, Regents' Professor Dr. Jay Nunamaker, who was one of the early innovators in the field of collaboration and artificial intelligence (AI) and founder of the Arizona MIS department in 1974. Upon joining the PhD program in Nunamaker's lab Elkins' became immediately immersed in AI and laboratory experimental research.
Elkins became involved with the research and technology that would develop into the Automated Virtual Agent for Truth Assessments in Real Time (AVATAR), an automated interviewing system that uses an embodied conversational agent to assess credibility. The technology, designed initially for border and airport security, can tell if the person being interviewed might be providing deceptive answers based on information transmitted via behavioral sensors in the kiosk. Facial expressions, eye movement, language, voice inflections and even the slightest movements – such as curling one's toes or blinking – can be detected by AVATAR, which alerts authorities, if necessary.
After Elkins finished his Ph.D. program in 2011 he did his post-doctoral work at an AI lab at Imperial College London, focusing on computer vision and vocal behavioral analysis. He was simultaneously working with the National Center for Border Security and Immigration (BORDERS) (a DHS Center of Excellence) which was testing AVATAR at border crossings.
Founding the SDSU AI Lab
In 2015, when Elkins returned to the US from London, there was an opening for assistant professor in SDSU's MIS department. "I wanted Aaron Elkins to come back to SDSU because I knew Fowler students would have access to a talented instructor that would push our curriculum forward in the areas we were lacking, most notably AI and big data," noted Reinig.
Once again, Elkins' path led him back to SDSU as he was offered, and accepted, the assistant professor position. He joined the faculty at SDSU in 2016 and brought his AI and AVATAR technology and research with him.
Shortly after coming to SDSU Elkins founded and began building the SDSU AI Laboratory. "In 2017, we got the equipment and we were able to hire student assistants," he said. "We inherited some additional space when the office next door became available and with some added furniture and full computational capabilities, the lab was finally operational in early 2018."
In addition to his work as the director of SDSU's AI lab and his ongoing research, Elkins is also an associate professor who teaches two courses in AI and Big Data (MIS 620) and Statistical Learning (MIS 749). Elkins is also active in external funding and is currently the principal investigator in multiple projects in AI and cybersecurity for the Navy.
His ability to advise and understand students is one of Elkins' most valuable attributes according to Reinig, who is now the interim Thomas & Evelyn Page Dean of SDSU's Fowler College of Business. "Aaron understands our mission at SDSU since he was once a community college transfer into the MIS department," said Reinig. "He respects our students and challenges them to compete at the highest level."