Fowler Student First to Earn SDSU Global Seal of Biliteracy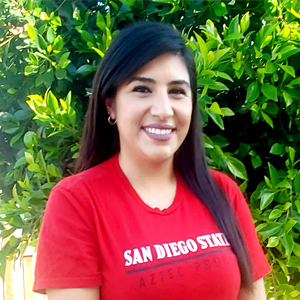 The Global Seal of Biliteracy is a special distinction San Diego State University students can earn in the form of a digital badge after demonstrating Working Proficiency in a language other than English. To qualify, aspiring candidates must participate in a cultural and linguistic immersion experience and pass standardized testing that covers reading, writing, listening, and speaking in the partner language.
Jessica Moreno, a San Diego native and a senior at SDSU's Fowler College of Business, became the university's first student to earn the newly developed SDSU Global Seal of Biliteracy in Spanish.
Moreno said that although her first language is Spanish, which is spoken in her home, she has taken pride in fine-tuning her Spanish fluency. "I took advanced placement Spanish classes in high school where I was taught reading and writing skills using the proper grammar," she said. "Throughout my years in school, I learned to speak, write and read English. However, my preferred language is Spanish."
The result of a collaboration between International Affairs, Fowler College of Business and International Business, SDSU's Global Seal of Biliteracy was forged to develop a standardized measurement of biliteracy skills, which assess proficiency in reading, writing, listening and speaking a language other than English. In addition to demonstrating language proficiency, students hoping to earn this distinction must also demonstrate successful engagement in a cultural and linguistic experience.
The SDSU Global Seal of Biliteracy was made possible through a three-year grant obtained through the California Department of Education's Multilingual California Initiative and in collaboration with the California Association for Bilingual Education. This grant pays for students' exam preparation, the cost of the exam and personnel to support students.
Because SDSU is a transborder Hispanic Serving Institution located near Mexico's international border, SDSU International Affairs launched its inaugural Global Seal of Biliteracy in Spanish during the Spring 2021 semester.
Interim Vice President of International Affairs Cristina Alfaro, who championed the grant, spoke about the value of the Global Seal of Biliteracy as a badge of distinction. "SDSU International Affairs views biliteracy as an asset that makes students more competitive as they enter the workforce in their chosen fields," she said. "We are proud to bestow this prestigious distinction on students who have invested time in elevating their bilingual competence through the Global Seal of Biliteracy experience. They are poised to make an impact for years to come by helping bridge cultural and linguistic divides wherever they go. We look forward to expanding this Seal to more colleges and more languages in the very near future."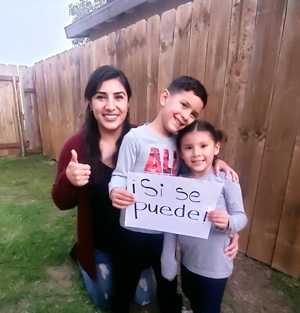 As Moreno prepares to graduate with a BSBA degree in general business from the Fowler College of Business in the summer semester of 2021, she is confident that the Seal will open additional job opportunities for her. "Receiving the SDSU Global Seal of Biliteracy means a lot because it recognizes and proves that I am proficient in two languages," she said. "This Seal will open job opportunities in the near future, and I will be a greater asset to any company." Graduation has been an important goal for Moreno, who transferred to SDSU in the fall of 2019 from Southwestern College. "Thinking that I am so close to achieving my goal brings much joy," she said. "I am very proud and honored that International Affairs created a pathway and gave me the opportunity to take this exam. I have been working hard, and I am happy to say that I will set a great example for both of my children."
For students who are interested in earning the SDSU Global Seal of Biliteracy, Moreno offers this advice: "Please take the opportunity to prove to yourself and the world that you are capable of breaking barriers. Challenge yourself to do the best that you can. Believe in yourself and you will pass the proficiency exam!"
SDSU plans to expand the Global Seal of Biliteracy to additional languages and majors for international and exchange students, as well as graduate students. Students interested in obtaining a Global Seal of Biliteracy can complete this interest form and visit sdsu.edu/internationalaffairs/globalseal for more information.