Economic Forum Brings Business Leaders and SDSU Community Together
According to economist, Christopher Thornberg, the national and San Diego economic outlooks are healthy, even though many Americans feel otherwise.
Statistically, the economy is actually doing well on both a national and local level, though our social narratives may lead us to believe otherwise, said Christopher Thornberg, economist and founding partner at Beacon Economics.
Thornberg delivered his presentation, titled "Economic Realities, Social Narratives, and the San Diego Economic Outlook," to a near capacity crowd on October 18 at San Diego State University's Parma Payne Goodall Alumni Center. The economic forum was hosted by the Fowler College of Business and Torrey Pines Bank.

Inflation Impact
"We've seen some pressures on the U.S. economy — there's no doubt about it," said Thornberg. "There's been a surge in inflation and the decline in consumer confidence that went with it." But even with rising interest rates and inflation, Thornberg explained, the chances of a recession are low since the economy is accelerating due to higher overall consumer spending. "Consumers are having fun - period," he said.
Using a number of graphs to illustrate his point, Thornberg pointed out that sales at restaurants, Nevada gaming revenues, spending on travel and concert tickets sales are near or higher than pre-COVID levels.
"Inflation doesn't cause recession," he said. "The problem is the resulting political strife, increased financial risks and economic confusion."
Labor Shortages
Another reason Americans are experiencing higher prices is due to labor shortages.
"The era of the labor shortage is here and it's because the baby boomers had fewer children," saidThornberg. "Tight labor markets are good for wage hikes, and this is particularly true for low-skilled workers. But these costs are putting a lot of pressure on businesses who are seeing their increased sales walk out the door in increased wages."
Housing
The housing shortage is due, in part, because of the tight labor market, said Thornberg. "As much as national labor markets are tight, labor markets in San Diego are even tighter," he said.
The lack of construction workers is particularly acute in the San Diego region even though it has lost population because people are voluntarily leaving the state. "The number of households are rising, but the number of people in those households are declining," he explained. He then gave an example of roommates occupying one household: When one roommate leaves to live on their own, there are now two households instead of one.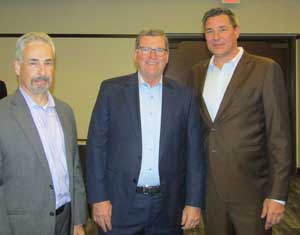 The reason this roommate may be able to live on their own is because of rising wages, however, even with more money, housing in San Diego is hard to find, which is driving up housing prices. Thornberg says that more multi-family units need to be constructed to help ease the area's housing shortage, however, San Diego boasts one of the strongest coastal economies in the nation.

"The Toxic Narrative"
Throughout his presentation, Thornberg discussed the "toxic narrative" about the economy even though he said it is actually doing well. He also pointed out that consumers haven't curbed spending, even in the face of inflation, and he cautioned his audience to "Beware the Narrative" specifically those that:
Skewed interpretations of economic news
Were at the root of economic bubbles
Drove bad political policy choices
He cites political influence on the Federal Reserve, overpayment of COVID-stimulus money and some of the earlier mentioned factors causing inflation to be at the heart of these "toxic narratives".
Toward the end of his presentation, Thornberg concluded that, for now, the U.S. and San Diego have economic indicators that are solid, and even growing. However, he cautioned, the economy may soon be cooling off. "Government spending may become a problem as the cost of our national debt is increasing and the population growth is decreasing," he said. "This is a result of broken narratives pushing toxic politics and bad policy choices."