Fowler Offers Students New AI-Based Tools To Support Career-Readiness
A recent survey of over 650 employers and over 1,500 current and former college students indicated that "uniquely human" or soft skills are highly valued by the majority of employers. In fact, the survey found that candidates with the ability to effectively listen, possess communications skills and demonstrate attention to detail are more highly prized than those with quantitative and technical skills.
To help enhance those skills, the Fowler College of Business has adopted two new artificial-intelligence-based (AI) platforms – PitchVantage and Quinncia – that focus on communication, presentation, interview and resume building skills.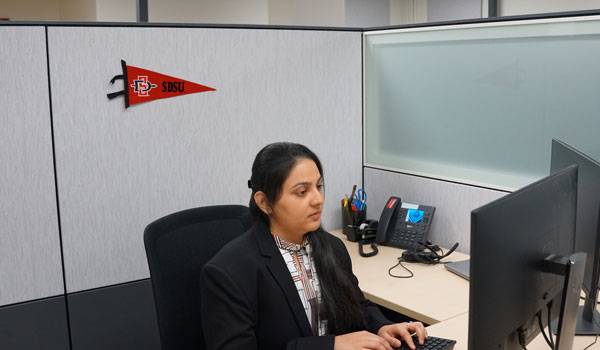 PitchVantage
PitchVantage, now offered to Fowler's graduate and undergraduate students, provides them with a platform to practice presentations and get immediate feedback in such areas as clarity, engagement, eye contact and other forms of non-verbal communication. The application utilizes a virtual 3-D audience that reacts to a presentation and then provides a dashboard and instructional videos that students can use to enhance their skills.
Mark Lindner, director of the Fowler Scholars Program, uses PitchVantage in his Business Scholars Seminar courses (BA 210 and BA 410) to allow students to practice for an upcoming case study.
"I have seen improvement in using fewer filler words such as 'like' or 'um' and their pace has become slower and more varied," said Lindner. "The students found it interesting and after a few trial runs, they loved the coaching and improvement they were seeing."
One of his students, Valeria Vizcarra, a marketing major in her second year at SDSU, used PitchVantage to practice her presentation for Lindner's class and felt more prepared and confident afterward. "It helped improve my delivery immensely," she said. "Seeing the way the virtual audience reacted during my presentation led me to change the cadence of my voice and helped me to realize what I needed to continue to do and what I needed to improve on."
Quinncia
Beyond helping students improve their presentation and interview skills, the college is also offering students taking the Foundations in Global Business class (BA 310 — required for all business undergraduates) the opportunity to use Quinncia, which is designed to help them successfully navigate and excel during the job interview process.
Currently, many organizations and online job listing sites use artificial intelligence-driven applicant tracking systems (ATS) to scan and evaluate all incoming resumes. Only those resumes adhering to the tight parameters set into the system get passed along to the next level for consideration and many are rejected for small issues (such as too many font styles and sizes) before they even pass through the hands of even one person within the hiring organization.
Quinncia overcomes that challenge by analyzing and providing instant feedback on typos, grammar, bullet points, keywords and other formatting issues. The AI-driven platform also conducts mock online interviews with questions specific to each student's industry of interest as indicated on their resume.
"Because so many organizations use ATI systems to filter through resumes, we wanted to provide our students with a platform that significantly increases their odds of securing that first crucial interview," said Tina Tan, director of Fowler's Career Management Center. "Quinncia helps students build their resumes before they are submitted for job openings, giving them the best possible chance at moving past the initial ATS scan and into the hands of the person scheduling interviews."
SDSU management major Hewan Abraha has benefitted from the platform. "Quinncia analyzed my resume before the mock interview and tailored questions to my specific profile," she said. "This allowed me to prepare for a wide range of potential job interview questions. It also gave me some valuable examples of how to improve my responses to the questions and how to enhance my resume as well."
Investing in Fowler's Students
"These platforms are part of a larger 'career and professional readiness initiative in the college that includes workshops, coaching clinics, mentorship programs, and leadership development opportunities," said Dan Moshavi, the Thomas and Evelyn Page Dean of the Fowler College of Business. "The Fowler College of Business will continue to invest in the future of our students by preparing them for that first big job and empowering them to embark on a promising career path with confidence and competence."