MSA Degree Opens Door To Promising Career For New Grad
All 50 U.S. states require a bachelor's degree with at least 150 academic credits to become a licensed certified public accountant (CPA).
While a bachelor's degree normally requires 120 academic credits, the additional 30 course credits needed to fulfill the CPA licensing prerequisites has shaped accounting firm labor demands and university curriculums in the state of California since these requirements were put into effect in 2014.
This is what motivated aspiring tax professional, Thanh Dung Ha ('23, MSA), to enroll in the Charles W. Lamden School of Accountancy at San Diego State University's Fowler College of Business to earn her Master of Science in Accountancy (MSA) degree.
Ha, who earned her bachelor's degree in her native Vietnam, chose to earn the necessary 30 credits for the CPA licensure at SDSU because of the university's "esteemed reputation as a strong business school, particularly within the school of accountancy."
"The MSA program equipped me with a comprehensive understanding of accounting principles, tax regulations, financial reporting and advanced auditing techniques," said Ha. "Additionally, the extensive alumni network in the San Diego area offered excellent networking opportunities by connecting me with professionals who shared a common educational background and career path."
Ha, who served on the executive board of SDSU's Student Accounting Society, participated in the student organized Meet the Firms event, which is held each fall to provide accounting students and local firms an opportunity to connect and discuss career opportunities. It was at this event in 2022 that she first met representatives from San Diego-based CPA firm Lavine, Lofgren, Morris and Engelberg, LLP. Two of the firm's namesakes, Vaughn Morris ('71, finance/'73 MBA) and Robert Lofgren ('78, MBA), along with many of the firm's managers and staff, are Fowler alumni.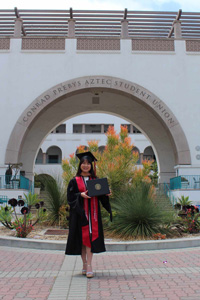 In January 2023, Ha began working at the firm as an intern in the firm's tax department. Following the completion of her MSA degree program in May 2023, she accepted an offer to work at the firm as a full-time tax associate.
"SDSU's MSA program, along with the networking opportunities it offered, opened doors for me to secure an internship, and, eventually a full-time job, with a firm I truly admire," she said. "Overall, SDSU provided me with the perfect environment for achieving my academic and professional goals in accounting,"