Management Professor Honored with the 2023 Alumni Association Distinguished Faculty Award
San Diego State University management professor, Michelle Dean, has been named this year's recipient of the Alumni Association Distinguished Faculty Award from the Fowler College of Business.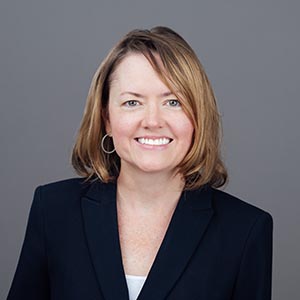 The Alumni Association Distinguished Faculty Award is presented annually to one faculty member from each of the university's seven academic colleges for their teaching, distinguished scholarship, professional activity, or other exceptional service. Founded in 1984, it is one of the university's most prestigious faculty awards and it will be presented to Dean during SDSU's All-University Convocation on August 17, 2023.
Dean's nomination for the award was based on her "leadership role in human resources management curriculum development and maintenance," "her deep commitment to student success," and her establishment and work with the SDSU chapter of the Society for Human Resource Management (SHRM), which has won national recognition numerous times.
In addition to this latest accolade, Dean has been honored by the university and the college on many occasions, including a Teaching Excellence Award (2014), Exceptional Service to Students Award (seven times) and Best Faculty Involvement Award (four times). She was also recognized by SHRM's national organization with the Chapter Advisor of the Year Award in 2016.
"Michelle Dean's dedication to the field of human resources management has been a source of inspiration to the many students she has taught through the years," said Dan Moshavi, Thomas and Evelyn Page Dean of the Fowler College of Business. "She has played an instrumental role in establishing and building the HR curriculum within the management department and continues to do so currently as the coordinator and advisor to Fowler's undergraduate students who are pursuing a specialization in HR. The many recognitions and awards she's received throughout her tenure at SDSU are a testament to her commitment to her students and her field of expertise."
Dean earned her Ph.D. from Louisiana State University and joined SDSU in 2002.
Dean's video shown during the award ceremony can be seen here.