Accomplished Physicist Turns to SDSU MBA Program to Develop Real-World Business Skills
Physicist David Pace earns his MBA degree at SDSU's Fowler College of Business to help him successfully navigate the management side of finding energy solutions for our future.
Imagine a process that can produce limitless power and does not produce greenhouse gasses or radioactive waste.
That process is called magnetic fusion and David Pace ('22, MBA) is working on ways to harness the power of this technology so that practical and cost-effective reactors can be built and operational sometime in the near future.
Pace, who serves as the deputy director of the DIII-D National Fusion Facility at San Diego-based General Atomics, is one of the individuals in the lab that is working on the process to make fusion energy a reality.
Evolving Into a Business Role
To prepare him for his role as a scientist, Pace earned a bachelor's degree, a master's degree and a Ph.D. in physics. However, his role within the Department of Energy's (DoE) funded DIII-D lab began evolving as he took on more responsibilities in preparation for his management role that required knowledge of business processes. "I found many of my daily tasks were more related to managing resources than doing science," said Pace who was promoted to the role of deputy director in January 2021. "I had more and more interactions with other business units about issues like accounting, supply chain management and human resources. I realized there is a steep learning curve in understanding their issues and processes and that some formal study in business would be valuable to help navigate this environment."
Deciding he would benefit from earning his MBA to address these issues, Pace first approached his employer who offers a tuition reimbursement plan for qualified universities as an employee benefit. Then, after talking to several of his colleagues who had also taken advantage of this opportunity, he chose to attend the MBA program offered at the Fowler College of Business at San Diego State University.
"I chose the MBA program at Fowler because it is highly rated and the course schedule was very accommodating to part-time students," said Pace. "I had confidence that I would get the full MBA experience even though I was limited to taking two courses per semester."
Pace started his MBA program in 2019 while maintaining his full-time job at the DIII-D lab. In the summer of 2022, he earned his degree after successfully completing his thesis which focused on how government-funded research facilities can market their services to private organizations to fulfill industry needs. Specifically, he assessed the ways in which government labs can accelerate the work of commercial organizations and expanded on those opportunities.
Thesis Developed During SDSU's MBA Program Gets the Attention of the Federal Government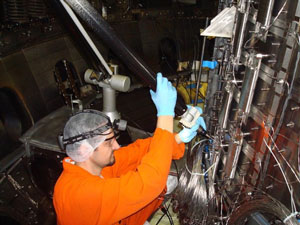 But his thesis didn't end with Pace's successful dissertation and graduation: It got the attention of the DoE, who s asked Pace to present his findings. "They were interested in how the commercialization of fusion technologies could be supported by the federal government," he said. "I never could have imagined that my MBA thesis would attract that kind of attention, but it turned out to be a fascinating project that had real-world relevance to my work."
While his thesis was the culmination of his SDSU MBA experience, Pace said it was the daily classroom lessons — particularly the communications skills — that he uses in his work nearly every day. "For example, I have a better understanding of accounting terminology, which leads to more efficient interactions between the accounting and technical teams," he said. "Also, the lessons on the implementation of cultural awareness and effective organizational behavior have become very helpful for communicating and leading change strategies within our internationally diverse team."
For fellow scientists who are transitioning into management roles, Pace offers this advice to those that are considering earning their MBA:
"In science, there are underlying rules or laws of nature that ensure that we all, eventually, arrive at the same answer," said Pace. "However, when it comes to business and management, there are no universal solutions that apply to all cases. An MBA program introduces you to those best-practices, solutions and skills that are most appropriate for a particular set of circumstances and act as a complement to those skills developed during your science education."
As magnetic fusion inches closer to reality, Pace's SDSU MBA experience stands as a testament to how interdisciplinary collaboration can more efficiently propel humanity toward an era of unlimited clean energy.