His Romance Fizzled, but His Business Idea Sizzled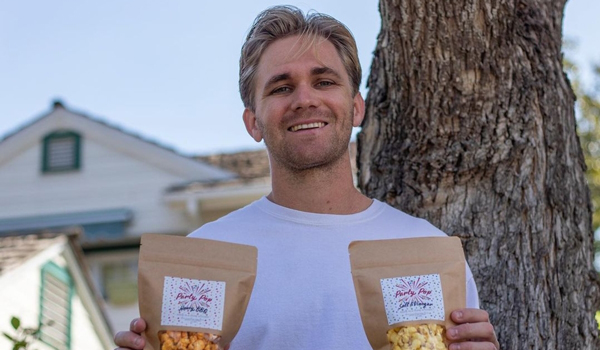 National Snack Day - March 4, 2023
While the path to starting his popcorn business may be unconventional, Jim Meyerott ('16), credits his entrepreneurial success, in part, on what he picked-up in his finance classes.
By Suzanne Finch


Jim Meyerott's journey to entrepreneurship began when he tried to put a little "pop" back into his relationship with his girlfriend.
Meyerott, who earned his finance degree from San Diego State University's Fowler College of Business in 2016, was working as a sales account manager in the solar energy industry shortly after graduation. But it was in his kitchen where he created a product that would ultimately change his life.
"My girlfriend and I had been together for five years, but we were starting to grow apart," said Meyerott, the founder and owner of PartyPop. "Her favorite potato chips were salt and vinegar, so I surprised her with salt and vinegar-flavored popcorn. She loved it!"
"The girlfriend left, the popcorn didn't," Meyerott said.
A few weeks later, he packed his new snack and brought it to his friend's brewery.
"I wasn't thinking about starting a business," said Meyerott. "But my friend loved it and wanted to sell it in his brewery." Realizing he might have stumbled upon a business opportunity, Meyerott began researching the popcorn industry. Pulling from tangible skills and knowledge he learned during his time as a finance student at SDSU, Meyerott was able to confidently leap into entrepreneurship after calculating the potential timing and cash flows.
PartyPop officially launched in 2018 and Meyerott says he hasn't looked back since.
"Learning how to use debt and understanding interest rates has been invaluable to financing my business," he said. "We are currently projected to do over $300K in revenue this year and I hope to expand PartyPop into a multimillion-dollar business by continuing to make new wild flavors people have never had on popcorn."
Breweries remain PartyPop's main distribution partners, but the company also makes products onsite for a variety of different events. They also have a dedicated Etsy store.
With the goal of continuing to grow PartyPop, Meyerott, in speaking to current students looking to launch their own business, says it is important to prepare for potential adversity.
"Learn from your mistakes and improve your processes. Also, focus on growing the company since no one can sell your product or service the way you can," Meyerott said. "Just remember that you are the face of your business and people love working with a passionate business owner!"