Spring Internship: A Day in the Life of Will Spann
Hi! My name is Will Spann and I am a business student at San Diego State University. I currently work at the City of San Diego at Mayor Todd Gloria's office as a Policy Intern. Although I'm a business student, I was drawn in by the Mayor's charisma and thought that this would be a great opportunity to learn more about public speaking and personal branding.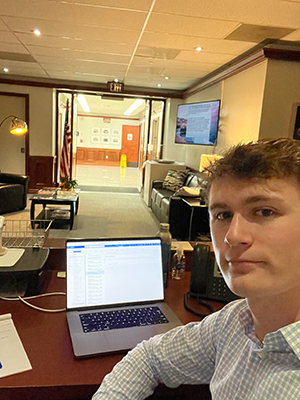 A couple of months ago, I attended a Rock the Vote event at SDSU. The Mayor and his team spoke a lot about the vacation rental ordinance, a hot topic in the news at the time. Since I am aspiring to enter the real estate industry, this immediately caught my attention and I reached out for an interview.
I also work as a Commercial Real Estate Analyst Intern for Venture Capital Properties, based out of New York City. Aside from the 20+ hours I spend at the Mayor's Office, I spend anywhere from 15 to 20 hours a week on Venture Capital Properties. I'm in charge of all offering memorandums, which are used for selling projects and analyzing the profitability of a property. Funny enough, I found this job through LinkedIn.
Here's a day in my life as a Policy Intern at Mayor Gloria's office:
7:00 am - I wake up at 6:15 to get ready for the day. I have to leave my residence hall at around 7:15 to get to the Old Town Trolley station where I take the trolley into Downtown San Diego.
8:00 am - During the trolley ride, I try to get as much work done as possible. I called one of the brokers I work with at Venture Capital Properties to confirm some information, as well as worked on an offering memorandum for another coworker.
9:00 am - Since I was one of the earlier interns to get into the office, I worked on the main phone line. We typically get several voicemails over the night and over 6,000 phone calls throughout the year. The Mayor's Office also has a main inbox, so I sorted out emails and responded to residents. We often have frequented topics on the main inbox, so I was tasked with creating a template for future responses.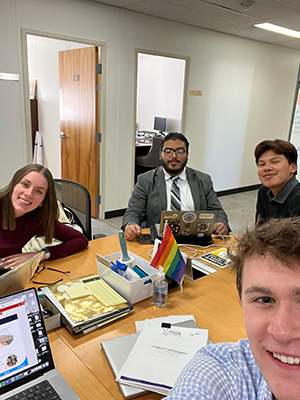 10:00 am - Around 10 am, I had a meeting with the Community Representatives, Emily Piatanesi, Michaela Valk, and Lucero Maganda, to discuss an upcoming internal protocol meeting. I was tasked with editing the slideshow and creating new graphics that could be used so the rest of the office better understands the Community Outreach goals.
11:00 am - At 11:30 am, I was relieved of the phones by another intern. Within the office, the interns have their own designated area to work on projects and the main inbox. I got started on the slide deck by completing any given criteria. I also took time during this hour to go over new protocols and security measures with other interns.
12:00 pm - I spent the entire hour working through the slide show. I also completed the template response for the main inbox and was connected to a policy director of ours, Randy Wilde.
1:00 pm - After working on the slideshow for half an hour, I walked to Tender Greens for lunch. Because City Hall is in the middle of a lot of activity, there is a ton to do during lunch break. Next week, I'm going to have lunch with our Director of Public Safety Policy, Chloe Madison. Interns are often encouraged to create connections with the rest of the staff to get the most out of their internship experience.
2:00 pm - After lunch, I got back to work on the slide show. At this point in the process, I was directly collaborating with Michaela Valk, our Director of Community Engagement. This slide show was to be used the following Tuesday, so this was a high priority.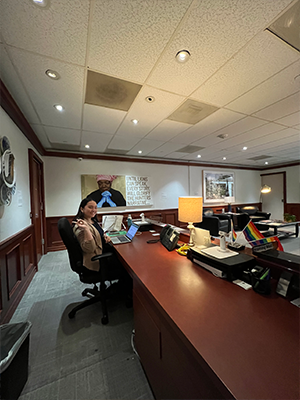 3:00 pm - I kept working on the slideshow and verifying that all of the data was correct.
4:00 pm - I went back up to work phones for the last hour and to close up the office at 5 pm. I finished the slideshow after collaborating with Lucero Maganda. I got to chat with Dion Akers, our Regional Government Affairs Manager about his time at SDSU and my experience with the internship.
5:00 pm - Toward the end of my shift, I assisted in an event at City Hall. I then took the trolley back to Old Town where I picked up my car. In all, it took me an hour to get back home. I spent the remainder of my day in night class, working on homework, and finishing up Venture Capital Properties projects.
Overall, both internships have been great opportunities to learn about the different sides of real estate development and land use. I get to work in both the public and private sectors. A tip that I would suggest to stay on top of things is setting up a Notion account to track progress on projects, as well as to document achievements. I religiously use the Reminders app on my phone so that I never forget anything. And always take notes!