Fowler Scholars Program Mentor Spotlight: Karl Hedberg & Jim Kalb
One unique opportunity given to the Fowler Scholars is having a professional business mentor. Fowler Scholar Karl Hedberg's mentor, Jim Kalb, is an SDSU alum and founder of multiple successful tech companies. He has given Karl invaluable life and business advice from his years of experience.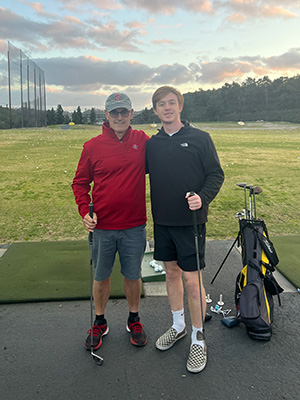 Name: Karl Hedberg
Major: Marketing
Graduation Year: May 2024
Pronouns: he/him
Campus Affiliations/Organizations: Fowler Scholars Program
Q: How would you describe your relationship with your mentor?
Jim and I are very close; we talk about everything from school, career aspirations, and even just life in general. Our relationship has definitely grown over the past few years and we meet regularly for lunch or golf.
Q: When did you and your mentor first get in touch?
I reached out to Jim about a month after I began my academic career at SDSU. He helped me set up my career path to ensure I was on the right track to succeed once I graduate. We often go back to this original conversation to make sure I am staying on track.
Q: What is the most valuable piece of advice Jim has given you?
Jim said the best advice he could give me was to develop a set of principles that you live your life by and you will never waiver, let these core principles rule your life.
Q: What opportunities has your mentor given you?
Jim has put me in touch with an incredible amount of executives and people who are in the sales industry. Recently, he connected me with alum Alex Grom, who does solar panel sales locally and has given me incredible hands-on insight towards the sales industry.
Q: How have you taken advantage of those opportunities?
I have reached out to nearly everyone Jim has put me in contact with and have grown my network through these experiences.
Q: How have you provided value back to your mentor?
I always try my best to reciprocate the value given to me by Jim. He is a very successful man and has his life figured out very well. I will lend an ear to Jim and listen in on his situations that go on throughout his work week.
Q: How has your mentor impacted your college experience?
Jim has impacted my college experience for the better. The life advice Jim has given to me makes me stay focused and stay on track to achieve my goals academically.
Q: What is the most interesting thing about your mentor?
The most interesting thing outside of Jim's career has got to be his passion for cycling. Last year, he showed me photos and videos from his trip where he biked up and down the West Coast for hundreds of miles.