Sports MBA Students Work Behind-the-Scenes at College Football Playoff Festivities in Los Angeles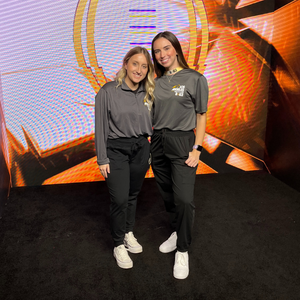 Los Angeles, California hosted the 2023 College Football Playoff National Championship for the first time, and Sports MBA students were front and center for the college football's biggest event right in the heart of the entertainment capital of the world.
The festivities began Friday at the Los Angeles Convention Center, home to the College Football Playoffs Fan Central. The three-day event consisted of a plethora of activations and games, pep rallies for both teams, special guest appearances and autograph signings, along with multiple interactive exhibits for fans visiting from around the country.
Sports MBA '23 students played pivotal roles throughout the weekend. The group was tasked with running activations, assisting guests with wayfinding, answering event questions, and ensuring that fans have a fun and positive experience at each of the CFP events.
Current Sports MBA student, Jacinda Molina assisted the Los Angeles Sports & Entertainment Commission's (LASEC) social media team by capturing behind the scenes content of TCU and Georgia's football teams and staff. From team arrivals at LAX and Media Day to highlighting loyal fan experiences at the Fan Central, Jacinda created exciting and captivating content for LASEC's social media and web assets throughout the weekend.
"Continued support of the LASEC and CFP teams has only grown my passion for creating unique fan experiences through high-profile events. By supporting the Social Media Command Center, I learned new skills in content creation and event coordination that I plan to apply in my career in sports. I am appreciative of these opportunities to develop my experience and knowledge of the event industry and to build meaningful relationships with sports professionals."
Working over six College Football Playoff shifts, Sports MBA student Ezekiel Camarena (SMBA '23) had the opportunity to work in each area of the Playoff Fan fest including assisting with the official CFP app needed for entry, providing event information, iconic trophy security, and stage managing for guest speakers including Bill Hancock (Executive Director, CFP) and Annie Hanson (Executive Director, USC Football Recruiting).
"Fan experience is an area of sports business in which I would love to work once my career kicks off after graduation, so being able to work directly with fans throughout the fanfest was a great experience that helped build my expertise in this area. I am thankful for the opportunity offered to me and the other members of the cohort, and look forward to more of these experiences in the future."
As an activation assistant, Sports MBA student, Alexis Ross (SMBA '23), was primarily involved in the execution and maintenance of the interactive activations throughout the weekend. The role consisted of promoting spectator engagement at each of the unique activations including dance video booths, 40 yard dash, QR scanning for prizes, and many more.
"As a Los Angeles native, I really enjoyed having the opportunity to welcome fans from across the country to the city! The Dance Party Video Activation allowed me to speak to thousands of fans and ensure that their CFP Fan Central was a positive and lively experience!"
Sports MBA 2023 candidates would like to sincerely thank the Los Angeles Sports and Entertainment Commission for allowing us to participate in the 2023 College Football Playoff events.