Faculty Making a Difference in the Lives of SDSU's Student Athletes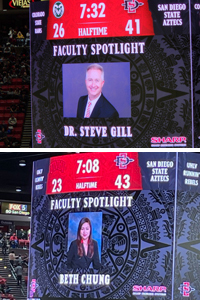 Two faculty members of the Fowler College of Business, Beth Chung and Steve Gill, have been honored during recent Aztec men's basketball games as having made an impact in the lives of SDSU's student athletes.
Chung, a management professor, was recognized during the Aztec's game against UNLV on February 11. Accounting professor, Gill, was honored on February 21 during the game against the Colorado State Rams.
Both professors were given game tickets and had their photos displayed on the video board at Viejas Arena during a game break.
Chung was nominated for recognition by Aztecs' star guard and management student, Lamont Butler and Gill was honored for his work with students athletes and for his participation in SDSU's Sports MBA program by Fowler staff member, Suzanne Finch.