Fowler Alumna Chases Her Ever-Changing Definition of "Success" and Lands at Harvard Business School
Q & A with May 2018 Graduate, Krystal Nzeadibe
While at San Diego State University, Krystal Nzeadibe encountered many life-changing opportunities that allowed her to grow her professional and leadership skills. Her campus involvements and connections provided her with the skills needed to thrive in her former role at Comcast NBCUniversal and current position as an MBA student at Harvard Business School. Nzeadibe reflects on her undergraduate experience and how SDSU inspired her to constantly chase her definition of "success."
Name: Krystal Nzeadibe
Major (and minor): Finance with an Honors Interdisciplinary Studies minor
Graduation Year: 2018
Pronouns: She / Her / Hers
Campus Affiliations/Organizations: Weber Honors College, Presidential Scholars, Harambee Scholars, Afrikan Student Union, Student African American Sisterhood, Associated Students (was an employee), Center for Intercultural Relations (Diversity Peer Educator)
Q: Can you describe a little bit about yourself and how/when you decided to attend SDSU?
I'm a first generation Nigerian-American, born and raised in the Bay Area. Deciding to attend SDSU was a no-brainer after I visited the campus as a prospective Honors College student in winter 2014, but getting to campus that day was actually quite tumultuous! My mom and I decided to take the bus-- I didn't know how to use Uber then haha! Long story short, we ended up being 2+ hours late to my meeting with the Admissions Office. I forgot which admissions rep I was in contact with, but he was so understanding and accommodating. When my mom and I finally ended up making it to campus, I first spoke to Azizi James who was an admissions counselor at the time. I was actually really excited to be welcomed to SDSU by a fellow Black woman and I appreciated her honesty and candor about the admissions process.
Azizi also encouraged me to apply to the Presidential Scholars Program. The program would place me in a cohort with other academically driven first year students at SDSU accompanied with a financial stipend. Funny thing is, Azizi wasn't the admissions counselor I was originally scheduled to meet with; it was a perfect coincidence that I was able to meet her. After my conversation with Azizi, I had a 1:1 tour from an SDSU ambassador, Onochie Ani. Onochie wasn't my original tour guide, but because we came so late he ended up being the one to show me around. It was quite serendipitous that he also was first generation Nigerian-American and I remember feeling a sense of excitement to meet someone that came from a similar background as me. Onochie walked my mom and I around campus, sharing his experiences being involved on campus and how amazing his experience had been. After the tour, we met with Dr. Stacey Sinclair, the Director of the Weber Honors College. Her energy was so infectious and charismatic. She explained to me the benefits of being in the Honors College- the extra resources provided through the college were a great selling point! I distinctly remember Dr. Sinclair telling me, "You want to go somewhere where you will be a big fish in a small pond, not a small fish in a big pond." That quote has stuck with me all these years, because it's also salient career advice… I knew at SDSU I would have the resources and support system to be a "big fish." None of the other schools I applied to neither offered me the opportunity to be in the Honors College nor be a Presidential Scholar.
The personalized attention I received while visiting as a prospective student was unparalleled. I could already envision the support system I would have, the clubs I would join, leadership roles I would run for…. It was so clear to me how I could make SDSU home for the next four years. When I got home that night, I accepted my admission offer. I can confidently say that trip truly changed the trajectory of my life.
Q: Briefly share what makes your story unique and how your time at SDSU has influenced your journey personally and/or professionally.
Looking back, I consider my story unique because most of the life-changing opportunities I feel I've encountered happened serendipitously. I am a religious person, so I know God has played a large role in the experiences I deem to be "serendipitous." For example, meeting Azizi James during my prospective student visit wasn't in the original plan. If I hadn't met her, I wouldn't have learned of the Presidential Scholar Program- which was how I ended up funding my college degree. I really feel blessed that God has placed the right people in my life at the right time.
The generosity of kindness coupled with the investment in my success that I have received at SDSU from people like Azizi, Dr. Sinclair, Dr. Tita Gray, and various Black upperclassman students have been the driving force behind my own philanthropic efforts in both my personal and professional life. Immediately after graduating, I became a mentor through the Aztec Mentor Program and I've recently became a mentor through the Black Business Society. Any opportunity to mentor and connect with students, I will be there! While I was a student, the motto of SDSU's African Student Union was "Lift as we climb" and I've dedicated my post SDSU journey to doing just that.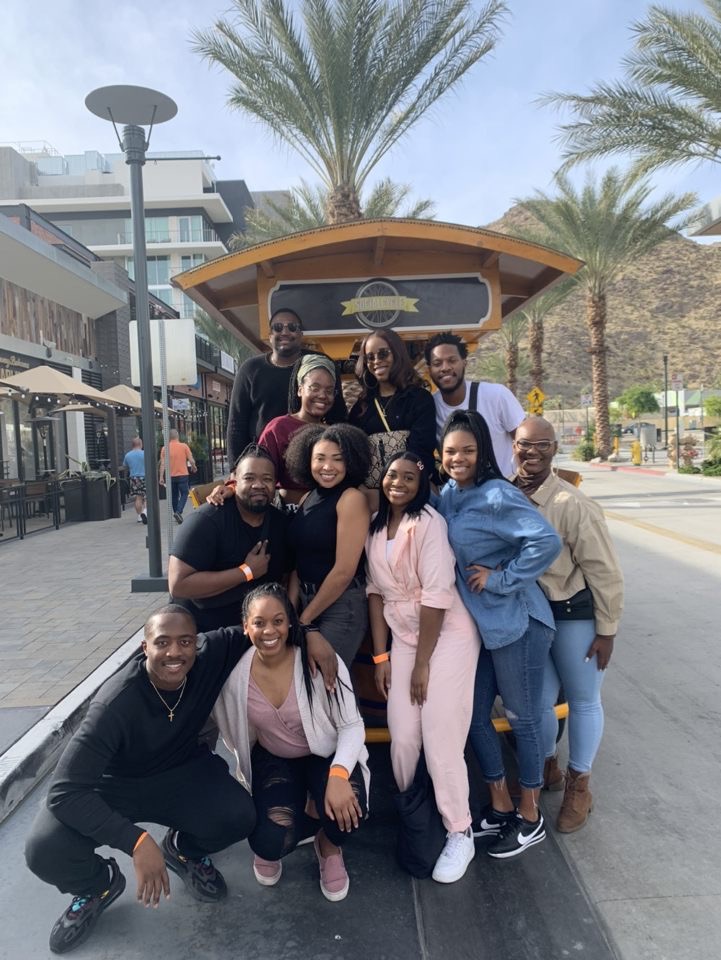 Q: What advice do you have for SDSU students wanting to succeed after graduation from SDSU?
I challenge students to do their best to define what "success" looks like for them after graduation because it is very subjective and there will be pressure to conform to others' definitions. Success could mean a plethora of things! It could be getting a job that makes you financially comfortable, launching a business, or working in a particular industry. Think of moments where you felt like you were in "the zone" and energized by what you were doing, that is the feeling you want to replicate in your career after you graduate. The earlier you identify aspects of an environment or a task that gets you "in the zone," and feel fulfilled, the easier it will be to pursue opportunities that align with your core values. People will project their own values of success onto you and will make you feel guilty, and even ashamed, for pursuing your own path… and it can be hard not to care! It's something I struggled with and still do. But at the end of the day, you have to remember that you have to live with the decisions you make. Your parents that are pressuring you to be a Doctor. aren't going to take the MCAT for you, complete residency for you…that's on you! So I challenge students to really take the time, before they graduate, to ponder what aspects of a career will make them feel fulfilled.
Q: Tell us a little bit about your career search and why you chose your current company.
My career prior to starting my MBA program actually started and ended with one employer, Comcast NBCUniversal. I interned with the Cable segment's Internal Reporting & Financial Analysis team in Philadelphia the summer prior to my senior year. Luckily, at the end of the internship, I was offered a full-time role as a Financial Analyst in their 2-year rotational program after I graduated. The role really was everything I needed at the time- I would rotate between 3 different corporate offices across the country, learning about different business segments. I honestly didn't know what exactly I wanted to do when I graduated, so I saw the rotational program as a great way to build intellectual capital about the industry, build my technical skills, and experiment with different job functions. I also was, and still am, a media geek! So working for one of the largest entertainment media conglomerates in the US aligned with my personal interests. Last but not least, I would be starting this role in an institutionalized program where we would get access to a plethora of resources: quarterly development sessions hosted in different cities, a financial stipend to relocate, and the "prestige" within the company from being a part of this cohort of only 25 recent graduates. Given all of these factors, starting my career with ComcastNBCUniversal was the best next step for me after SDSU.
Q: Describe your experience with your current job and the responsibilities you hold.
My last role was based in Philadelphia working in the Corporate Strategy Team for Comcast NBCUniversal. This role was so much fun because my team supported internal consulting projects across NBCU, Xfinity, and Sky (our European telecommunications & media business). In this role, I completed a variety of quantitative and qualitative analyses to support C-level executives across the enterprise in their decision making. The projects I worked on ranged from helping our TV Studio Strategy team refine their television franchise strategy, calculating a category of the entire company's Scope 2 Greenhouse Gas Emissions (GhG), and exploring ways for the organization to lean into Blockchain. I truly loved the wide scope of topics I worked on because I was consistently challenged with learning something new!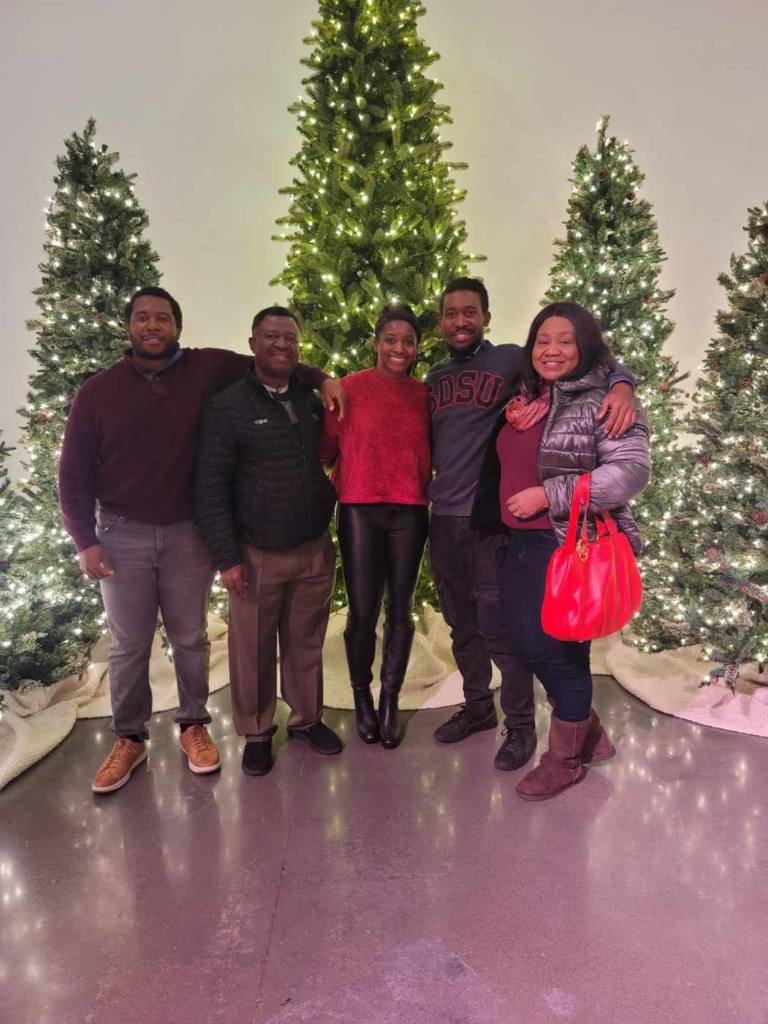 Q: Tell us a little bit about your current education journey.
Currently, I'm a first year student at Harvard Business School (HBS) pursuing my MBA. It has been such a great experience getting a second chance at being a student again! I'm coming in with a better understanding of what I want out of my educational experience vs. when I started college, which helps me stay focused on accomplishing my goals. Coming out of HBS, I want to leave with a business plan for a venture I want to launch, a full time role either in consumer technology or fashion, and an expanded network of classmates located across the globe. With these goals in mind, I've been able to take advantage of the entrepreneurial resources here on campus like taking a Short Intensive Program (SIP) teaching me how to ideate and bring a product to market and network in person with entrepreneurs across my target industries. Additionally, the great thing about business school is that everyone had a career before coming here! I've been able to have candid and honest conversations with classmates about the realities of working for consumer tech and Fashion organizations, gaining insight about the career paths I'm interested in pursuing. Lastly, as I meet and get to know my classmates on a deeper level, I find myself not only learning about the diversity of cultures that inhabit this world, but also finding a deeper appreciation for people and how everyone has a unique contribution to make to society.
Q: Tell us a little bit about your involvement with student organizations at SDSU and how that shaped your journey both at SDSU and after.
I was involved with a handful of organizations while at SDSU, each of which provided a great foundation with very low stakes. It really was a blessing to be involved in student organizations on campus where I was able to make mistakes and learn from them; the consequences of doing that in the "real world" are much more costly, haha! These are some of the orgs I was a part of and how they've impacted my life:
Weber Honors College: This program, and more specifically the Director of the program, Dr. Sinclair; she made me feel like more than just a number while at SDSU. Dr. Sinclair would volunteer me for opportunities, most of which I felt unqualified for (like speaking to 1K+ people at the Weber Honors Prospective Student Reception my freshman year); and that's why I'm so grateful for her! She really saw the potential I had as a leader before I saw it in myself and was always so encouraging. Today, I realize how rare it is to cross paths with someone like that, someone so invested in your success and not expecting anything in return. If I could be a "Dr. Sinclair" to at least one other person during my lifetime, I would deem myself successful.
Black Business Society (BBS): I was elected president of the organization my sophomore year and remember feeling so overwhelmed. This was my first time leading others, some of which were older than me. I was very intimidated to say the least! Since the organization was so young at the time, we had a lot of out-of-the box ideas to grow and retain our members, but not a lot of money. We were really scrappy and resourceful. Learning that level of resourcefulness in BBS has been extremely helpful throughout my life, especially in my career. You won't always have everything you need to complete a project or a task, but you need to be able to leverage the tools, and most importantly people, around you to create the deliverable.
Center for Intercultural Relations: This isn't a student organization, but I consider it one of the communities I was proudly a part of while being a student. As a Diversity Peer Educator, I would sit at the front desk and say "hi" to every single person that was walking in. We also had other responsibilities of course, haha! But welcoming students into our space was how I spent most of my time. Sometimes students were in a rush and would utter a quick "hi" back and move on, other times, students would stop and we would talk about their day, current events, etc. The students that stopped to engage were my favorite! This role taught me so much about people. We are so simple, yet complex at the same time. All these interactions with students confirmed for me that most people have something in common: we all want to feel connected and understood. However, accomplishing this goal gets complex once you layer in all the identities we hold, the experiences we've lived through, our different core values, etc. These "complexities" are what make people so unique and learning from others by the simple act of listening is the skill I learned in this role. I really learned to enjoy listening because I find myself learning so much more vs. when I'm talking!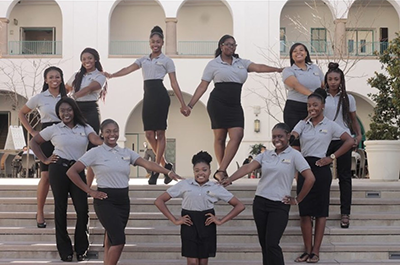 Q: What advice do you have for current SDSU students to make the most out of their time at SDSU?
Remember that college is a stepping stone for the rest of your career. SDSU and the city of San Diego offer so many great ways to explore potential job functions and industries. You do have to put in the leg work to seek out these opportunities, or even make them, but it will serve you so well in the future. Looking back, I wish I had explored the Lavin Entrepreneurship Center while I was in undergrad. Junior year, I remember walking around campus during some type of fair where startups were selling products to students. It was so cool! And I remember thinking, "I want to do that."...I wish I had explored that entrepreneurial bug and explored the resources available to me on campus. College would have been such a great time to attempt to launch a company. The stakes are so low! Years later, I realize that life only gets more complicated and it gets harder to take career risks…so take the risks now and explore professional paths that seem even the slightest bit interesting to you!
Q: Can you recall a meaningful project or class you participated in while at SDSU? If so, please share details about that experience.
One of the most memorable classes I took at SDSU was during my senior year, "Black Women: Myth & Reality." Not only was this the first time I had a Black professor, but it was a class that felt so relevant and personal. Each class session honestly felt like therapy! We would discuss different aspects of the Black Woman experience and unpack their respective implications on today's society. As a Black woman, I found this class very therapeutic, because it was very reaffirming. Many experiences and feelings I had encountered prior to this course, I didn't quite know how commonplace it was for many Black women…even Black women here at SDSU. Dr. Ashae, the professor, was also very knowledgeable and created an environment where students could be vulnerable and share their own personal experience with some of these topics. I will always be grateful for this class for the validation it provided me at the time.
Q: What has your professional journey been like after graduating from SDSU?
My professional journey after graduating from SDSU has been a whirlwind! There have been so many pleasant surprises and learnings. After graduating from SDSU, I did a 2-year rotational program with ComcastNBCUniversal, called the CORE Finance program. My rotations particularly focused on the media and entertainment side of the business. My first rotation was at Telemundo Studios in Miami, helping the finance team predict the financial success of their new television programs. My next rotation was a financial planning and analysis role based in Philly, supporting the Xfinity Cable segment. My last two rotations were both based out of NBC's 30 Rock office in Manhattan; one on the Corporate Strategy & Business Development Team and the second supporting the launch of NBCU's streaming service, Peacock. I was able to build a wide skill set and knowledge base of the industry really quickly. Most importantly, I was also able to figure out what type of work and work culture I thrived in. Upon finishing the program, with these learnings as a guide, I transitioned to the role of Sr. Analyst in the Corporate Strategy team in the company headquarters. We had purview over the entire organization and supported a wide breadth of projects, essentially acting as internal consultants. After some time in this role, I began to wonder…what next? A part of me wanted to stay at the company and continue to be at the crux of the dynamic media business, but a part of me yearned for more. My definition of success…changed. Today, I want a job that is more operational and enables me to be closer to the consumer. I knew that my next role would be different from what I was currently doing so I decided to take the leap and apply to business school and obtain an MBA to ease the transition. In an act of faith, I applied to six business programs and got into all of them! Harvard Business School (HBS) was my dream program and once I got my admissions offer, I knew I would regret not attending. I'm currently in my second semester at HBS and am very happy that I get to call this place home for the next two years!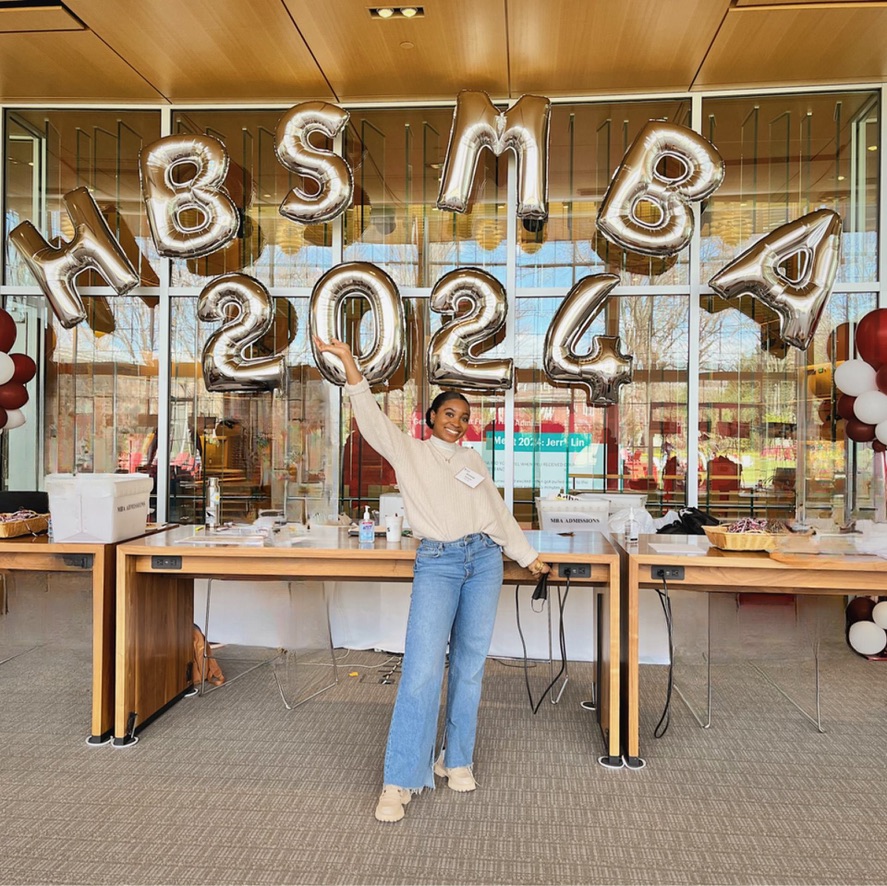 Q: When you're not working how do you like to spend your free time? Please share about any hobbies or interests that you may have.
These days when I'm not busy doing homework or applying to summer internships, I'm probably hanging out with my classmates. A major part of the business school experience is networking; consequently there are a lot of social events or 1:1 hangouts with classmates that fill my calendar. Most of the time we will go out to dinner somewhere in Harvard Square, but we also host watch parties or organize game nights at each other's apartments. A good portion of my time is also lovingly dedicated to a podcast I co-host with another SDSU alumna (Sierra Smith '18) called "Black Girls Just Wanna Have Fun." We are currently working on releasing our second season and have been recording/editing episodes, building our social media strategy, and much more. It's a lot of work, but it is so much fun! Given that I will create and run my own enterprise in the near future, this podcast is teaching me how to build and manage a brand. This is my shameless shoutout to listen to our podcast! We are on every podcast listening platform and we have an Instagram, @BlackGirlsHaveFun!