Welcome to San Diego! Women of Sports MBA Greet San Diego Wave FC at Press Conference
On Wednesday, December 15th, several women from the Sports MBA Class of 2022 had the opportunity to attend a press conference for the newest player in the San Diego sports landscape, San Diego Wave FC, who will begin play in the NWSL in 2022. The press conference was held at Scripps Seaside Forum in La Jolla, CA, and featured the reveal of the team's official crest and team colors. Team President Jill Ellis and Head Coach Casey Stoney addressed the assembled media and dignitaries, outlining the type of ambitious organization they plan to run. To this end, Wave FC introduced two of its first signed players, USWNT stars Alex Morgan and Abby Dahlkemper, who excitedly discussed their opportunity to play with Wave FC next year.
This event was particularly exciting for the Sports MBA students in attendance because they had the opportunity to network with sports business professionals from nearly every organization in San Diego who came out in support of Wave FC. The highlight of the afternoon, though, came when the students spoke with Wave FC team president Jill Ellis, who is an inspiration to the many women in the class aspiring to be leaders in the sports world.
"It was incredibly encouraging for us to hear from a team president who values the contributions of women in the sports industry and who is committed to hiring women in critical roles on and off the field," said Tureen Piromari (SMBA '22). Ellis advised the students to stay focused and determined in their journeys toward leadership positions in the sports world.
Beyond the networking and the excitement that accompanies a major team announcement, students were also happy to get first-hand experience with a large-scale event put on by a sports team.
The Sports MBA students who attended Wednesday's event are incredibly grateful to the front office of Wave FC for allowing us to participate in this exciting event. We look forward to working with you soon!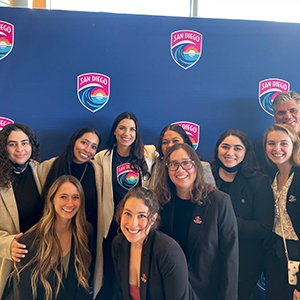 Women of SMBA '22 with newly acquired forward Alex Morgan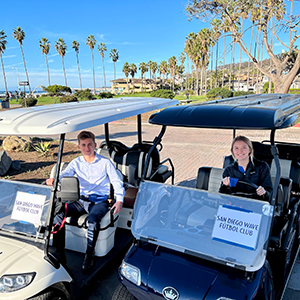 SMBA '22 students volunteering at the press conference Wendesday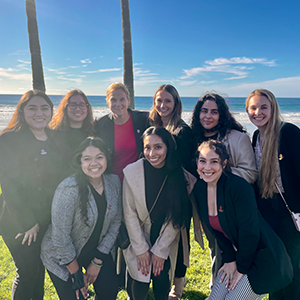 Women of SMBA '22 pictured with President of San Diego Wave FC, Jill Ellis.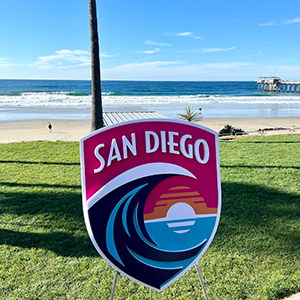 San Diego Wave FC Crest revealed at the press conference Wendesday