Southwest Airlines: Rhonda Ramirez

The Fowler College of Business at San Diego State University has many graduates working in companies that enhance the year-end holidays for shoppers, travelers and merchants. Here is the story of one of those grads.
Southwest Airlines: Rhonda Ramirez
Many travelers have experienced the holiday crush at airports as they journey toward their families and loved ones. But even with a significant increase in the number of travelers at the end of the year, nearly all of them will be able to reach their destinations in a timely manner.
Getting the rush of travelers to their ultimate destination as seamlessly as possible is no accident, according to Rhonda Ramirez ('95, management), the general manager for Southwest Airlines' Phoenix Sky Harbor operations. "Every holiday brings a busy operation, and preparation is key to ensuring all facets of our operation are positioned for success," she said. "There is a lot of work behind the scenes to make this happen that our customers don't necessarily see."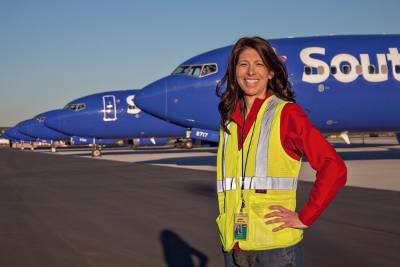 Knowing Where She Wanted to Be and How to Get There
Ramirez, who has been a Southwest employee for over 25 years, knew she wanted to work in the aviation industry almost immediately after earning her management degree from SDSU. "I was always drawn to the excitement of travel and the activity at the airport," she said. "One of my best friends from high school was working for Southwest, and she was having the time of her life, and I was attracted to the airline's now-famous culture."
After deciding that she wanted to work for Southwest, Ramirez applied for an entry-level position posted at the company's Las Vegas and Phoenix locations. After getting the opportunity to interview for an auditor position within the provision department in Phoenix, Ramirez was offered the job, and "the rest is history," she said. "After my first job as a provisioning auditor, I quickly moved into a customer service agent position and then into leadership, where I've worked at multiple airports (San Diego, Ontario, Burbank, and twice in Phoenix).
In Ramirez's current position as a general manager, she leads a team of approximately 1000, including 100 managers and supervisors. "Our team supports approximately 180 daily flights that originate at Phoenix Sky Harbor International Airport," she said. "I have direct oversight of our ground operations department, which includes our amazing teams of customer service agents, ramp agents, and provisioning teams. I am also responsible for maintaining a safe, reliable, and efficient operation while managing a multi-million-dollar budget."
Challenging SDSU Classes Built Foundation for Her Success
Ramirez said that she has her classroom work at SDSU to thank for much of her success. "My overall education at SDSU definitely prepared me for my career. That's where I learned how to understand performance metrics and the value of good communication," she said. "My favorite professor was James Beatty, and I took a couple of his very challenging statistics courses. When I reflect on those classes, I especially credit that part of my education for the strength of my business acumen today."
As she enters her 26th year with the airline, Ramirez said she likes to reflect on her accomplishments and her commitment to assisting and mentoring Southwest's next generation of leaders. "Leadership is a special craft that should be constantly refined throughout your career," she said. "I've never felt like I've arrived since there is always more to learn as the journey continues."