Fowler Marketing Alumnus Says Good-Bye to 50 Years of Theme Park Adventures
For most of his life, Bill Davis has enjoyed thrill rides, animal shows, musical events, and various live shows nearly every day. That's because Davis spent nearly a half century working in theme parks throughout the United States — and for a short while, in Spain — as either a staff member or an executive.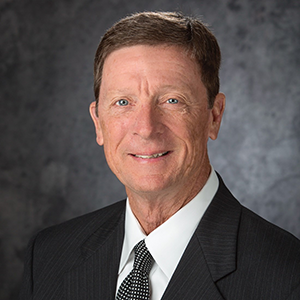 Bill Davis earned a marketing degree from the Fowler College of Business in 1980. (Courtesy Universal Orlando Resort)
"Wouldn't it Be Fun to Work Here?"
Davis, who retired as the president and chief operating officer of Universal Orlando Resort on December 31, 2021, left an industry that he first fell in love with when he visited SeaWorld with his girlfriend (now wife), Becky, shortly after it opened in 1964. "We were watching the dolphin show, and I turned to her and said, 'Wouldn't it be fun to work here?'," said Davis, who earned his bachelor's degree in marketing from the Fowler College of Business at San Diego State University in 1980. Nine years later (including four years in the United States Airforce), Davis became a SeaWorld employee.
Davis was a photographer in the Air Force and earned a degree from the Brooks Institute of Photography, so it was fitting that he would take his first job at Sea World as a photographer. However, when the first oil crisis began impacting the U.S. economy in 1973, Davis faced the possibility of being laid off only months after he'd started.
Last Hired, First Fired
"SeaWorld's senior VP of marketing came to me and let me know that since I was the last photographer hired, I'd be the first to be fired," said Davis. "But he mentioned an opening in the sales department, and I had experience laying out ads and promotional pieces. I also had a mortgage and a family to support, so I took the job."
The position Davis took in the sales department involved selling passes to Sea World for corporate parties, company picnics, convention outings, and other organizational events. He found that he "was relatively good at it," and he moved up the corporate ladder.
Getting That Degree
While Davis was making headway in his career at SeaWorld, he was also determined to earn his bachelor's degree. After earning part of his academic credits at San Diego Miramar College, he transferred to SDSU. Since he was already involved in a sales and marketing career, he chose to attend SDSU since it "had the marketing courses I was interested in taking."
Davis says he "is a lifelong learner" and he earned his MBA from Stetson University in 2014.
Since he had a full-time job, he was on a tight schedule and took most of his classes during the evening whenever possible. However, one class he wanted to take during his senior year was only available during work hours. "I had a boss that allowed me to attend class during the day, as long as I got back to work right after class," he said. But Davis' persistence and willingness to juggle his schedule paid off as he earned his bachelor's degree from SDSU in 1980.
Moving to Move Up
A year later, in 1981, he was offered a promotion to executive management which required a move to SeaWorld Ohio near Cleveland. This wouldn't be the last time the family moved: over the next two decades, the Davis family would land in Orlando, back to San Diego, and in St. Louis before Davis accepted the position of managing director of Universal Mediterranea near Barcelona, Spain. "I already spoke decent Spanish before we moved there, but this job helped me improve my ability to listen and communicate in the language as well," he said. "It also gave me a greater appreciation of European culture, which is great since there are so many European visitors to Universal Orlando Resort."
Shortly after Universal Mediterranea was sold, Davis got a call from Tom Williams, the CEO and chair of Universal Parks & Resorts, convincing him to take the position of president and chief operating officer at Universal Orlando Resort. Davis took the job and stayed there for 15 years until the day he retired.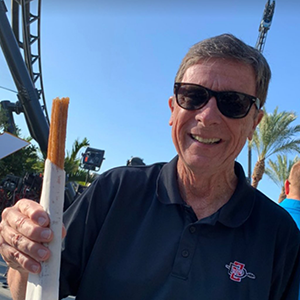 Davis is still a fan of the San Diego State Aztecs. (Courtesy Universal Orlando Resort)
Managing by Walking Around
As he left the park on the last day of 2021, Davis said the thing he will miss most about the job is the people: both the people he worked with at Universal Orlando Resort and the visitors in the park. "I liked the idea that I can get up from my desk, watch people having a great time and knowing that I'd been a tiny part of that," he said. "I liked seeing the joy in a little kid's eyes and seeing families create memories that will last a lifetime."
Davis called it "management by walking around" which he said he learned about while attending SDSU. He also credits his lessons at SDSU for helping him to "get organized, learn critical thinking and to be a good listener."
Embrace Optimism
For those SDSU students who would like to follow Davis into a career in the tourism and hospitality industry, he offers this advice: "Find a job in a company or industry that you like and be flexible and adaptable. Then you can start to navigate your career to get to the place where you really want to be."
Though Davis' own career has drawn to a close, he said he is looking forward to traveling and spending time with his family and enjoying vacations with Becky, his children and his grandchildren at their condo on Longboat Key. Still, he will miss seeing the park every day, interacting with both the park visitors and his colleagues, and watching his family enjoy the park's atmosphere. "When you run a theme park, you can be very popular with your children and grandchildren since they really do enjoy the rides, attractions and the show opening events," he said. "We will all miss those experiences."
One thing that won't change for Davis is his willingness to embrace the bright side of life. "People should be optimistic," he said. "Things could go wrong, but tomorrow can be better than today. And though we have challenges — no doubt about it — but if you get an education, you can get ahead. If more people were optimistic, the world would get a little better."