Fowler Alumni Turn Passion for Ballet into Their Business
Two children on two different continents shared the same dream to become premier ballet dancers.
In 2010, the same two children — now adults — were living their dream as they became principal ballet dancers at San Diego's California Ballet Company. Carlo Di Dio ('17, management) and Bernadette Mirentxu Torres ('16, management) met only two days after Di Dio's arrival in the U.S. from his home in Procida, Italy. They would soon find they had much more in common than ballet: they also shared the same desire to establish and manage a dance-focused business.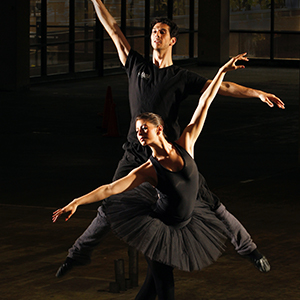 Di Dio and Torres met when both were principal ballet dancers at San Diego's California Ballet Company
"I wanted to experience the American Dream"
As an 8-year-old, Di Dio began dancing and he soon realized that he wanted to become a professional dancer in the U.S. "I grew up with American movies and I was fascinated and excited about learning more about the U.S.," he said. "Most of all, I wanted to experience the American dream."
While Di Dio was training in Italy, 6-year-old Torres was starting her dance training in San Diego, which is also her hometown. San Diego was also where the two of them met in 2009 as they pursued their professional careers. "We met on my second day in the U.S. and I did not know any English when I arrived," said Di Dio. "Since Bernadette's grandfather was also European, she knew how to help me, teach me English and clarify all sorts of things for me."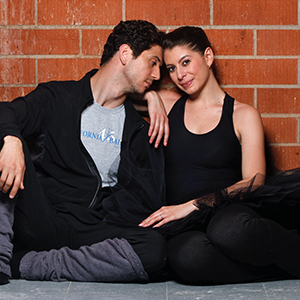 Carlo Di Dio and Bernadette Mirentxu Torres both earned management degrees from the Fowler College of Business
Dancing Into the Business World
As a bond formed between the two of them and Di Dio's English continued to improve, the couple also looked beyond their dancing careers toward starting their business. They both decided to attend a local community college to get their associates degrees in accounting. Torres finished her degree program first and she decided to attend the Fowler College of Business at San Diego State University to complete a bachelor's degree in management. "I chose to attend SDSU because I'd heard good things about the business school and I loved their campus environment," said Torres, whose parents are also SDSU alumni. "I wanted my own business and I worked at other studios, so I saw what did, and what didn't, work. I decided to earn a management degree because I wanted to network and learn how to run a business successfully before embarking on my own entrepreneurial journey.
While Di Dio was in his final year at community college, he visited SDSU's campus with Torres and realized that he wanted to enroll in Fowler for his management degree as well. "I wanted to learn the business side of a ballet company, which is why I chose to major in management," he said. "It's people with passion, talent and energy that make a company great, but in order to achieve greatness, you must know how to manage them accordingly."
Within a few years of graduating from SDSU, the couple retired from dancing and got married on June 15, 2019. They began offering dance lessons from a studio in the Eastlake area of San Diego County as they planned how to establish their business.
Then the pandemic hit.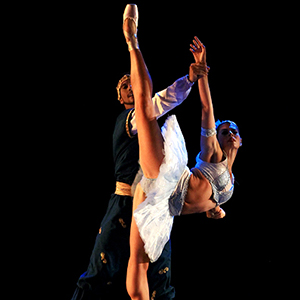 Di Dio and Torres during a dance performance
Opening a Business During COVID-19
"In March of 2020, while many ballet schools were on standby due to the pandemic, Bernadette and I received several proposals from parents to train their children privately," said Di Dio. "Because of advanced technology, we were able to offer a lot of the training online. During the summer, we created a proposal to several of those parents to be a part of our first dance program, the Torres Di Dio Ballet Program (TDBP) which launched on September 1, 2020."
The program offers lessons in ballet technique, Pilates, conditioning and the history of ballet. While both Di Dio and Torres offer lessons and carry out strategy and operations duties, Torres focuses on marketing and communications for the program, while Di Dio handles the finance and public relations functions.
A Taste of Success
Though their program is young, Torres and Di Dio have already tasted success with the announcement that one of their students finished among the top six at the Youth America Grand Prix and was awarded a full scholarship. As the program continues to gain acclaim and new students, the pair would like to open their "own physical studio within the next couple of years."
The couple are quick to acknowledge that the lessons learned at SDSU have helped them navigate their first business venture. "Besides the marketing, economics and finance concept, SDSU helped us learn the soft skills such as time management, negotiation techniques and team building," said Di Dio. "Entrepreneurs must have those skills to be successful and SDSU provided them to us."
To those artists who wish to become entrepreneurs, Torres offers the following advice: "To become great in any endeavor, you must continue to be a great student. The most important qualities you can possess are open-mindedness, humility, listening to understand and not just to reply, a willingness to listen to your passion and the ability to respect all."