Fowler International Exchange Students Help Restaurants During COVID Crisis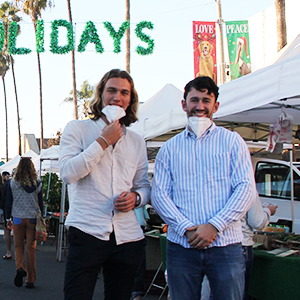 Till Hartwig (left) and Till Kuehn are the co-founders of the till App
Since the COVID-19 pandemic and the subsequent lockdown of many businesses throughout the U.S., the nation's restaurant industry has been hit particularly hard.
As a local remedy to this situation, two international exchange students studying at the Fowler College of Business at San Diego State University have devised an app that can help restaurants sell food left behind at closing time while offering customers a substantial discount.
Here's the Pitch…
Till Hartwig and Till Kuehn, both students at the Berlin School of Economics and Law in Germany, came to SDSU during the fall semester of 2019 to study management and entrepreneurship for one semester. During that semester, they were encouraged by SDSU management lecturer, Tanya Hertz, to discuss two start-up ideas they had during an elevator pitch contest staged by SDSU's ZIP Launchpad. One of those ideas was for a phone app that allowed restaurants to sell the food that was left at the end of the night and would normally be thrown away. The leftover food would be sold to customers at deep discounts while allowing restaurants to recover some of their costs, while till (the company) gets a small fee from every transaction.
"The idea won the competition," said Hartwig. "The ZIP Launchpad staff encouraged us to join the program and we did. We were the first international exchange student team to be a part of this outstanding startup incubator."
Overcoming Obstacles
The till app is planning to add an option that will allow customers to donate to local foodbanks and other charitable organizations that fight world hunger.
However, as exchange students, Hartwig and Kuehn had to overcome a major hurdle. "Since we only had one semester, we had to work very hard to show quick progress," said Kuehn. "When it came time for us to go home, we realized we had invested a lot of energy in the project and the longer we worked on it the more certain we felt that we could make this a real company that could help the community."
When the two realized that they would not be able to attend SDSU as exchange students for another semester, they decided to enroll at SDSU as international students and pay the full tuition costs in order to continue working on their startup idea during the spring semester of 2020. "Then COVID hit!" said Hartwig. "That's when things really got complicated. Till Kuehn had to fly home to Germany for a while, and even though I was still here, it was hard to keep everyone motivated at first."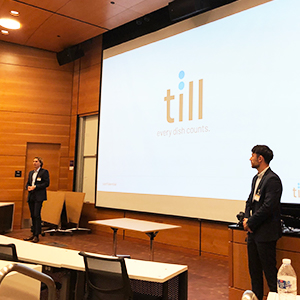 Hartwig and Kuehn pitch their idea of the till App during a recent event.
In a stroke of luck, the two found a lifeline through the Optional Practical Training (OPT) program offered through the U.S. Department of Homeland Security. The program allowed Hartwig and Kuehn to remain in the U.S. as temporary employees of their own company as they continue their studies with an internship at a local startup incubator (REC Innovation Lab). This gave them the leeway to continue working to launch the till App even in the face of the pandemic shutdown.
A Successful Launch
Kuehn and Hartwig are still determined to see the project through to completion and with the help of three other partners and two student interns (funded through the ZIP Launchpad's Aztec Cooperative Fund) they are well on their way. With some additional funding through the Lavin Early Seed Startup Fund and the Zahn Success Fund Award the two were able to launch the till App on January 29, 2021.
While the two will complete their degree program at the Berlin School of Economics and Law online this spring, they have their feet firmly planted in San Diego as they've seen the till App grow rapidly in a short period of time. The app currently partners with several restaurants in the Pacific Beach and North Park areas of San Diego and they already have plans to expand their restaurant partnerships in the very near future. "We are currently onboarding partner restaurants around the SDSU campus," said Hartwig. "Our goal is to help as many local communities as possible and expand further to help prevent food waste and hunger."