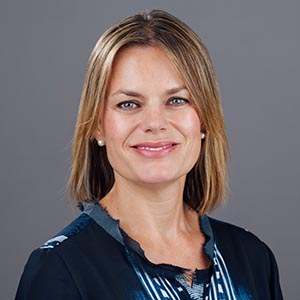 Martina Musteen
Faculty Director, Wendy Gillespie Center for Advancing Global Business, Charles Hostler Professor of Global Business
Academic Affairs
Fowler College of Business
Center for Advancing Global Business, Management Department
San Diego
Email

Phone

Location

SSE-3302

Mail Code

8238

Links
Bio
Martina Musteen, Charles Hostler Professor of Global Business, received her Ph.D. from the University of Kansas and joined the Fowler College of Business in 2006. At SDSU, she teaches courses in international business, international entrepreneurship and business development. She has also led various workshops and studies abroad in other countries such as Mexico, China, Italy, France, the Czech Republic, Israel and Taiwan. Musteen serves as a faculty director of the Center for Advancing Global Business (CAGB), a senior editor for Journal of World Business and is the editor-in-chief of the ie-scholars.net online academic community.
Musteen had won multiple awards for her teaching. Her research interests include internationalization process of entrepreneurial firms, foreign modes of entry and spatial dimensions of international venturing. Her research papers have been presented in numerous international academic conferences and published in the Journal of Management, Journal of International Business Studies, Journal of World Business, Global Strategy Journal, British Journal of Management, Leadership Quarterly, Journal of Business Research, Management International Review, Entrepreneurship Theory & Practice and others.
Consulting Projects
A collaborative consulting project involving graduate students (MBA, MSGBD) and international startups seeking to evaluate business opportunities in the U.S. market.
As a part of their coursework in the Seminar in International Entrepreneurship & Business Development (MGT 748), small student groups work on assessing a specific business opportunity in the U.S. market and developing an actionable recommendation for pursuing that opportunity.
More information about this project can be found here.
As a part of their coursework in the Seminar in World Business Environment (MGT 748), small groups of graduate students (MBA, MSGBD) work on a project involving a local company seeking to initiate or expand its international presence.
The students engage with company's executives to identify the relevant political, economic, cultural and competitive aspects of a prospective country-market relevant for entry/expansion. The aim is to analyze these factors and assess them in light of fit with the firm's capabilities.
The IBDP is a semester-long consulting project involving a client company located in another country.
As a capstone experience for the M.S. in Global Business Development (MSGBD) program (BA 794), the IBDP project demands students to apply and integrate their knowledge gained in the program, hone cross-cultural skills and master the ability to define, analyze, and solve business problems in an international setting.
The students are required to travel abroad to meet the client, learn about its competitive strengths and desired outcomes in order to formally scope the project. This is followed by extensive data collection and analysis culminating in detailed business development plan.