STORIES & ARTICLES
No Challenge Too Great for These Female Student Entrepreneurs

Lisa Schloss, Victoriana Gonzalez and Patricia Campanella are all natives of San Diego County who study business at San Diego State's Fowler College of Business. All three women are entrepreneurs and, like to many other entrepreneurs, each of them aspired to own their own companies at an early age.
Each of these female entrepreneurs began their businesses after witnessing a challenge in their personal lives or the lives of others.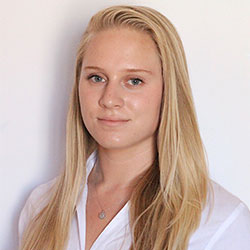 Victoriana Gonzalez
Gonzalez, a senior majoring in general business, owns two businesses. The first, Babee Box, was founded when she noticed the high price of fashionable children's clothing and how quickly the clothes were discarded once they no longer fit. "I personally knew many parents who suffered the financial and time burden of going to the store or browsing online for hours to purchase pricey children's apparel on a monthly basis," she said. "My solution to this major problem was Babee Box, which is a rental-based subscription box for fashion-forward, pre-loved children's clothes."
Babee Box is slated to launch on June 1 or before, however, Gonzalez' second business, Vaeana Jewelry has been going strong for a number of years. The company was established while she was still in high school because she "had a vision to become my own boss and inspire other young entrepreneurs to pursue their passions."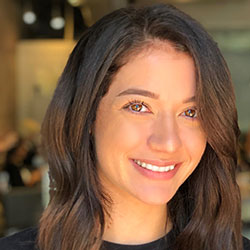 Patricia Campanella
It was Patricia Campanella's passion for community service that led to her start-up company, 501Conn3ct. "All my life, I have been compelled to better the world through political activism and volunteerism," said Campanella, a junior majoring in manangement/entrepreneurship. "Over the past few years, I began to notice that my peers were not seeking out volunteer opportunities and those who were volunteering were not doing do on any kind of consistent basis. Too few volunteers stick around for the long haul, making it difficult to create a network of like-minded individuals."
With that in mind, Campanella founded 501Conn3ct which is a volunteer and donor resource group platform that provides students with skill-based volunteer opportunities that align with their area of study. Students and non-profit organizations will be able to collaborate with one another in teams to achieve shared philanthropic goals on a routine or as-needed basis. She is currently completing her business plan and is seeking partnerships to test her first iteration which is set to launch this spring semester.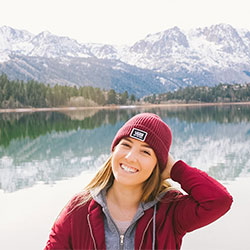 Lisa Schloss
Like Campanella and Gonzalez, Lisa Schoss encountered a challenge in an area of interest in which she was passionate – in this case, traveling abroad. Schloss, a senior majoring in marketing, took a year off from school to pursue her dream of visiting Costa Rica. "During my time there, I saw a huge disconnect between travelers' knowledge of what they could do and locals who were available to give visitors unique experiences," she observed. "I started Radventures as an application-based company that gives travelers the opportunity to share their interests with us, allowing us to hand-pick personal local guides that can offer tours for the experience of their choice. Travelers then have the ability to donate to various non-profit organizations that support the communities and wildlife they want to explore."
Currently, Schloss and her team are evaluating customer interest in the San Diego region and they are building relationships with non-profit organizations in both Costa Rica and Mexico "to prepare for expansion into some of their indigenous communities." The team is planning to have most of this work concluded by March, 2020.
Schloss, Campanella and Gonzalez, like so many other entrepreneurs, saw a market challenge and used their passion and drive to create viable solutions. As with all entrepreneurs, there will be new challenges/problems they must face as their products advance to the next level, but Campanella is prepared for that eventuality. "One lesson I've learned is that entrepreneurs should fall in love with the problem, not the solution! The entrepreneurial process is a continual evolution that can make or break a start-up, so find a problem you can fall in love with for the long haul."
Update 5/8/2020: Because of the hardships many local businesses have faced due to COVID-19, Lisa pivoted her company to support and drive traffic to these local spots. She launched Radlocals, a website that highlights restaurants open for take out and businesses offering discounts. Radlocals currently features more than 220 local restaurants and breweries in San Diego. Lisa has also begun forming partnerships with some of these businesses to provide discounts and other offers to first responders.