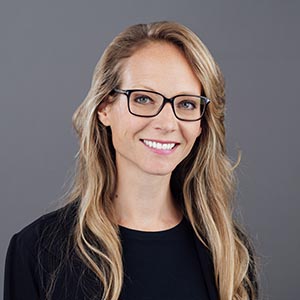 Paula Peter
Professor
Academic Affairs
Fowler College of Business
Marketing Department
San Diego
Email

Phone

Location

SSE-3135

Mail Code

8239
Bio
Paula C. Peter is Full Professor of Marketing at SDSU where she has taught at the undergraduate (MKTG 371, MKTG 472) and graduate level (MKTG 761) since 2007. In 2018 she received the College of Business Teaching Award and in 2019 she was nominated for the prestigious Senate Teaching Excellence Award. Her research interests are on experiential marketing, new technologies (AR/VR), design thinking, and consumer psychology (with particular emphasis on emotions, emotional intelligence, and consumer well-being) as they relate to effective marketing strategy and marketing education. Professor Peter's article on marketing competencies won the best 2017 article award in the Journal of Marketing Education.
Her most recent work focuses on the area of innovation, design thinking, and extended realities (AR/VR), as they apply to food experiences and marketing education. Dr. Peter's research has been published in high quality peer reviewed business and psychology journals such as: Journal of Business Research, Journal of Marketing Management, Journal of Marketing Education, Marketing Theory, Journal of Public Policy and Marketing, Journal of Consumer Affairs, Journal of Consumer Marketing, Journal of Research for Consumers, Journal of Applied Social Psychology, etc.
When Professor Peter is not teaching, she is working on her research or serving on a variety of committees at the college and university level (in Spring 2018 she was the Interim CSU Senator for SDSU and the same year she co-founded the Women in Business Academia ERG). From 2014 to 2020 she served as SDSU Senator and she was the Chair of Faculty Affairs from 2019 to 2020. In Spring 2020 Professor Peter helped the college transitioning online by offering support to her colleagues after the campus closed due to COVID-19. She is also the co-advisor of the Women in Business students' organization at SDSU.