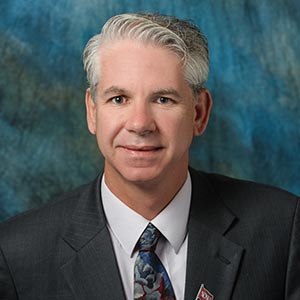 David DeBoskey, Ph.D., CPA (NJ Inactive)
Professor
Charles W. Lamden School of Accountancy,Sports MBA Program
Bio
David G. DeBoskey is an Associate Professor in the Charles W. Lamden School of Accountancy and served as the KPMG Faculty Fellow from 2011-2012. Since joining the College of Business Administration faculty in 2006, he has taught upper-division undergraduate accounting courses for the Charles W. Lamden School of Accountancy and specialized graduate MBA courses in the Sports and Executive MBA programs at SDSU.
Dr. DeBoskey's main research interests are in the areas of information risk, disclosure, cost of capital, corporate governance, auditor specialization, and executive pedagogy; he has additional interest in executive education, specifically examining the impact of accounting education in international executive instruction. His expertise in these areas has made him a requested speaker at top-tier conferences and has positioned him as an authority on executive compensation to the national media: His quotes and analysis have been widely cited in outlets such as The Wall Street Journal, Business Week, LA Times, USA Today and Dow Jones.
Read More…
A seasoned business executive, Professor DeBoskey brings real-word experience into the classroom. Prior to coming to SDSU, he served in various financial and managerial executive positions for both public and private companies. His extensive experience encompassed SEC reporting, financial reporting and budgetary oversight, contracting, internal and external audit responsibilities, human resources and information systems, and treasury functions for the healthcare, financial services, and mortgage banking industries located on Wall Street. He has taught accounting and finance courses in Beijing and Shanghai, China, Singapore and for a nationally ranked Executive MBA program for over 10 years.
Since his hire, Dr. DeBoskey has served as Faculty Advisor of Beta Alpha Psi (Accounting Honor Society), raising the chapter's profile by achieving Gold Status for three out of the last five years and finishing First Place at Regionals' Best Practice Competition for three of the last six years. In 2011, the National organization of BAP honored him with one of its five Outstanding Faculty Advisor Awards. He is also the recipient of the Mark Chain Federated Schools of Accountancy Award honorable mention in 2010. In 2013 and 2014, Dr. DeBoskey was selected as the Most Influential Faculty from the Top Graduating Undergraduate Student Luke Mourian and Hamed Hajiha, respectively.
His articles have been published in various peer-reviewed academic journals, including The Journal of Banking & Finance, Issues in Accounting Education, Review of Quantitative Finance and Accounting, The CPA Journal, Valuation Strategies, Journal of Business and Behavioral Sciences, Journal of Business and Accounting, Practical Tax Strategies and Journal of Real Estate Taxation.
He received his Ph.D. in accounting from Rutgers University, where he also completed his Masters in Business Administration.
Interests: Finance (Reporting) Corporate Transparency Sports (Accounting) Workplace (Compensation) Decision Making (Executive) Sports (Financial Management) Finance (SEC Reporting) Accounting (Auditing) Accounting Workplace (Executive Compensation)