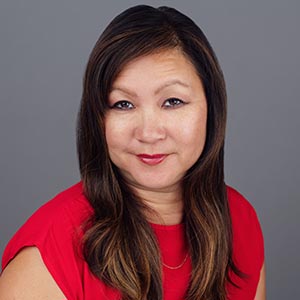 Beth Chung
Department Chair/Professor
Academic Affairs
Fowler College of Business
Management Department, Online Degree Completion (BSBA)
San Diego
Email

Phone

Location

SSE-3428B

Mail Code

8238
Bio
Beth G. Chung, Ph.D. (University of Maryland, 1996) is
the chair of the Department of Management. She is also the director
of the Institute on Inclusiveness and Diversity in Organizations (IIDO)
and past chair of the Diversity, Equity, and Inclusion Committee for
San Diego State University. She teaches organizational behavior,
leadership, and diversity isues. Her research focuses on inclusion
and diversity, leadership, and service climates. She has published
more than 35 articles in top outlets (Journal of Management,
Personnel Psychology, among others). She is a fellow of the Society
for Industrial and Organizational Psychology and co-founder of the
Committee on Ethnic Minority Affairs. She has won numerous awards
including the Teaching Excellence Award, Faculty Diversity
Excellence Award, and Best Quantitative Paper Award. She serves on
the editorial boards for the Journal of Organizational Behavior and the
Journal of Business and Psychology.