Fowler Celebrates Study Abroad Day
In honor of National Study Abroad Day, the Fowler College of Business at San Diego State University is recognizing a few students who have recently returned from their study adventures in Europe and Asia.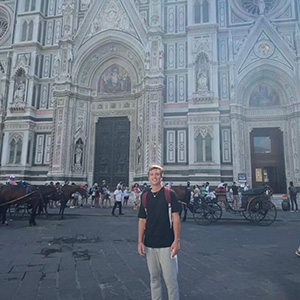 Benjamin Wieboldt – Senior
Study Abroad University: Lorenzo de'Medici (Italy)
Length of Program: Two Months
Major: Marketing
I decided to study abroad because I really wanted a change of pace from normal classes. I was also looking for a way to go abroad and this was a perfect opportunity. I would also say that not being able to go anywhere during COVID-19 really pushed me to go abroad.
Overall, I would have to say that studying in Italy was the highlight of my college career. Going abroad exceeded all of my expectations and definitely opened up some new doors for me. I studied in Florence, Italy, which is an amazing city that is full of things to do. The classes that I took were so interesting and interactive. It was definitely a different learning experience than at SDSU, and I would have to say the professors there make it engaging and fun. On the weekends, I had the opportunity to travel to other places with friends that I met during my time in Italy. I also visited Amsterdam, Greece, Croatia, and Spain. I would recommend the API Florence program to anyone.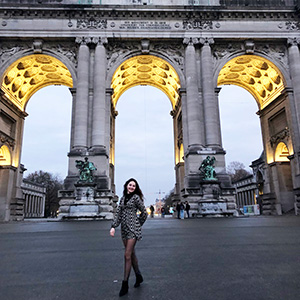 Erika Schroth – Senior
Study Abroad University: Brussels School of Governance (Belgium)
Length of Program: One Semester
Major: Management
I have wanted to study abroad since I was in high school since I love throwing myself into new experiences.
I knew absolutely no French before I went to Belgium, but that was part of the excitement. It was a challenge at first, but overcoming it was the most satisfying feeling. It was an extremely eye-opening adventure.
My experience abroad was difficult at first. I moved to Belgium while still on crutches and I experienced some homesickness. What got me through was my friend, also from SDSU, being there with me. Together we made friends from all over the world and traveled to 10 other European countries. Finding the time to visit all those countries was difficult while keeping up with our classes, but I wouldn't change it for the world. For me, traveling is what made my experience special. We took a scenic train ride through Switzerland, toured the "Disneyland" castle in Germany, and explored natural wonders in Ireland. As for my Belgian classes, it was extremely different from my SDSU business classes. The biggest difference was class size. My classes never went above 10 people, but that allowed me to create genuine relationships with my professors and classmates.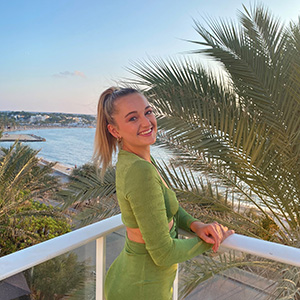 Hannah Young – Senior
Study Abroad University: Universitat Pompeu Fabra (Spain)
Length of Program: Three Months
Major: Marketing
Since both of my parents and my sister studied abroad, I wanted to experience it as well. I was planning on going my junior year, but due to COVID-19, I couldn't. A friend from another university knew how badly I wanted to go abroad and she wanted to go too. We researched programs that were in the same area and we decided to go together.
My study abroad experience was one that I will cherish forever! I was nervous before going, but as soon as I arrived, all of my worries vanished and were replaced with happiness and excitement. I met some amazing people from all over Europe, I ate food I never would have imagined I would try (and like!), traveled to nine different countries, and visited many interesting museums. It was cool to go to school with other people my age that are from different parts of the world and learn about how their lives are very similar, yet so different. I feel very lucky that I was able to experience Europe the way I did at such a young age. It has shaped me into the person I am today and is even inspiring my post-graduate career choices — I am going to move to Europe!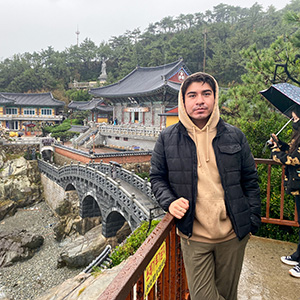 Luis F. Cruz Velasco – Senior
Study Abroad University: Chung-Ang University (South Korea)
Length of Program: Five Months
Major: Marketing
Being an immigrant and experiencing two different cultures growing up, I have come to love learning about new cultures. I chose South Korea because my roommates during my freshman year are both from South Korea and they taught me about Korean culture. I traveled there the following summer for a week and knew I had to go back and study there at a future date.

Studying abroad in South Korea has helped me grow academically, professionally, and personally. During my time in Korea, I met other students from different countries with whom I quickly bonded and shared many amazing experiences. These experiences range from hiking the Bukhansan Mountains, visiting Gyeongbokgung Palace, watching the sunrise in Busan, enjoying the nightlife, eating at the biggest fish market in Korea, and going to Korean BBQ almost every weekend.
One thing that I love about Korea is the public transportation system because it is so efficient and easy to use — you can travel anywhere in the country without having to drive. The food was delicious, but you have to watch out for the spice. There are also many pop events for new K-dramas, K-POP groups, and marketing campaigns. I was lucky to enjoy the Squid Game pop-up event when Squid Game took the world by storm. Studying abroad has been one of the most impactful experiences in my life so far.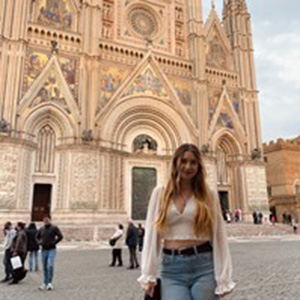 Molly Best – Senior
Study Abroad University: John Cabot University (Italy)
Length of Program: One Semester
Major: Management
I was inspired to study abroad because I had never had the chance to travel to Europe before. Studying abroad gave me the perfect opportunity to not only travel, but to be able to work toward my degree and experience a new culture and meet new people.
My experience living in Rome, Italy was once in a lifetime opportunity. I attended an American business school there, where I was able to get a global perspective on business. This was my first experience with a new culture, and I got to meet amazing people and make great connections. I also got to try new and delicious foods, learn a tiny bit of Italian, and live minutes away from some of the most historical places in the world, like the Colosseum.
While I was abroad, I was able to travel to over 10 different countries. Some of my favorite places included London, Budapest, Switzerland, and Greece. This experience has definitely changed my life and helped me grow into a more independent and adventurous person.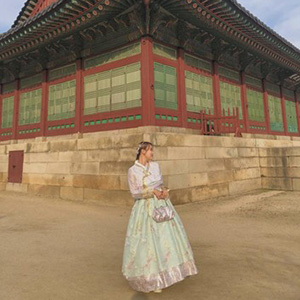 Hoang Ngoc My Tran – Junior
Study Abroad University: Chung-Ang University (South Korea)
Length of Program: One Semester
Major: Accounting
I loved traveling and learning more about other cultures so I decided to study abroad, it's like a 2 in 1 experience that I would not be able to get post-graduate. I also wanted to come out of my comfort zone and grow myself personally.
My whole experience in South Korea was absolutely amazing. The food was cheaper there than it is in the U.S., and I got to try out new and delicious food every day. I visited Busan during Chuseok and it was so pretty — the beach was clear and the sky was blue and sunny. I also got to visit Nami Island (because I love nature), some dog cafes, and the Gyeongbokgung Palace, where I got to wear the traditional Korean Hanbok. The public transportation is clean, fast and convenient so it was not a problem to get to where you want to go. The streets were very clean and there was no public trash, so it was a culture shock for me.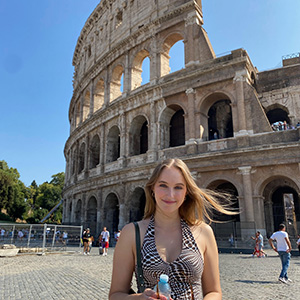 Tatum Rolle – Senior
Study Abroad University: John Cabot University (Italy)
Length of Program: One Semester
Major: Marketing
I have always wanted to travel and study abroad, but I was never sure if I was going to get the chance. But the pandemic really motivated to get out there and do all the traveling I had always wanted to do. I knew I was going to regret it if I never tried to make that happen.
Studying abroad was the best experiences of my entire life. Living in a completely different culture and having to adjust to a whole new way of life gave me the chance to learn so much more about the world than I ever knew. My walk to class through the Roman streets was filled everyday with the Italian language, pizza and pasta restaurants on every corner, and the local people who loved JCU students.
I got the opportunity to travel to brand new cities every single weekend and I met some amazing people, from both the United States and Europe. Overall, I learned so much about myself and other cultures through my four months there, and I cannot wait to go back to Europe to experience even more!