STORIES & ARTICLES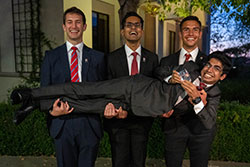 SDSU Student Team Wins Regional CFA Challenge
A team of four San Diego State University (SDSU) students emerged victorious in the San Diego regional competition for the 2020 CFA Institute Research Challenge held February 25, 2020. CFA is the premier global association for investment portfolio managers. In this competition, students gain real-world experience when they assume the role of a research analyst. The SDSU students were one of five teams representing four Southern California-based universities to compete at a local level this year.
The winning teams from each local competition – including SDSU - advance to the Americas Regional competition where all winning teams located throughout North, Central and South America will compete in a virtual competition format April 20 – 21, 2020. The winning team from the Americas Regional competition will then face winners from the Asia Pacific and EMEA (Europe, Middle East and Africa) regions in the Global Final virtual competition on April 22.
The students on this year's team consisted of finance majors Juan Francisco Frias Carazo and Jack Kagan, economics major Satya Bhambhani, and team captain Ashrith Reddy, who is working toward his Ph.D. in bioengineering. Dr. Babak Lotfaliei, finance professor from SDSU's Fowler College of Business, served as the team's faculty advisor.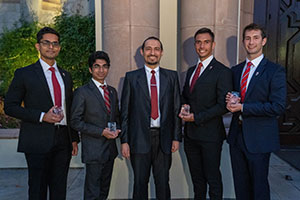 Each year, teams competing in the San Diego region are asked to analyze a hypothetical investment for a publicly-traded local company (in this instance, Carlsbad-based Viasat) and create a report indicating a buy, sell or hold recommendation. The recommendation is then presented to a panel of judges consisting of San Diego CFA Society members who are certified financial analysts.
"After six months of intense preparation and training, the students were well-equipped to present their report to the panel of experts, and the results of their hard work speak for themselves," said Lotfaliei. "The judges' feedback indicated that they were impressed by the high quality of the SDSU team's analysis, as well as professionalism that the students demonstrated in their report and during their presentation."
The CFA Institute Research Challenge is hosted by the CFA Institute as a "global competition that provides university students with hands-on mentoring and intensive training in financial analysis and professional ethics." The organization currently engages over 6,000 students from over 1,000 universities on a worldwide basis.