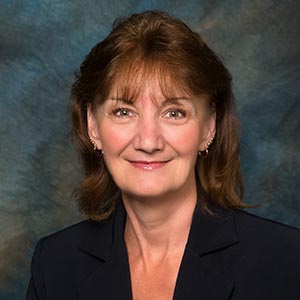 Kathleen A. Krentler, D.B.A.
Professor/Directory of Assessment
Marketing Department
Bio
Kathy Krentler (DBA, University of Kentucky; MBA & BS, Wayne State University) is Director of Assessment, Fowler College of Business, San Diego State University. She has served in this position since 2006. She has also served as the Associate Director of the SDSU Center for Teaching and Learning and was the SDSU College of Business Director of Undergraduate Programs for 14 years. Krentler's academic discipline is marketing. Krentler is active with the AACSB in the area of assessment – she facilitates AoL seminars, has served on Assessment conference Advisory Boards, and has presented at every AACSB Assessment Conference. She has made presentations at numerous other national and international assessment conferences, twice serving as a keynote speaker.
Read More…
In recent years with her focus on assessment, Krentler has published assessment-related research in journals and consulted with universities on assurance of student learning. In earlier years, with a focus on the Marketing discipline, Professor Krentler published more than 40 articles in journals and conference proceedings with special emphasis in the fields of strategy, consumer decision-making, and social sector marketing. She is a past president of the Academy of Marketing Science (AMS), a global organization for marketing academicians. The AMS designated her a Distinguished Fellow of the Academy in 1996.
Interests: Marketing Marketing (Integrated Communications)
2009 Monty, Alumni Association, San Diego State University, SDSU Alumni Association
2013 Outstanding Faculty Contribution, College of Business Administration
D.B.A.,

University of Kentucky,

Marketing.
Krentler, K. A., S. N., A. S. (2017). Profiling and Segmentation of International Tourists in India. Anatolia, An International Journal of Tourism & Hospitality Research, 28(1), 31-40. http://dx.doi.org/10.1080/13032917.2016.1245670
Krentler, K. (2015) Instructors as Raters of Embedded Assignments: The Good, The Bad, The Ugly. AACSB, Austin, TX
Krentler, K. (2015) Measuring College Learning, A White Paper. New York, New York: Social Science Research Council.
Krentler, K. (2014) Using Assessment Findings to Evaluate the Effectiveness of Solutions to Improve Global Learning. Assessment Institute, Indianapolis, ID
Krentler, K. (2014) The Benchmark Blues: Help! How do I do it?. AACSB Assessment Conference, New Orleans, LA
Krentler, K., Sabol, K., Donahue, T., Bresciani, M. (2014) Lessons Learned in Assessing Study Abroad. NAFSA, San Diego, CA
Krentler, K. (2014) Best Practices in Assurance of Learning. Keynote Address, CSU BAT Conference. Long Beach, CA.
Krentler, K. (2013) Digging Deeper to Direct Loop Closing. AACSB Assessment Conference, Phoenix, AZ
Krentler, K. (2012) A Test of Closing the Loop on Written Communication Skills. AACSB Assessment Conference, Houston, TX
Krentler, K., Caruana, A. (2011) An International Collaborative Degree: The International Masters Programme in Integrated Marketing Communications. 1, 118-134. IGI-Global.
Krentler, K. (2010) An International Collaborative Degree: The International Masters Program in IMC. International Educator.
Krentler, K. (2010) Closing the loop on Essential Business Knowledge. AACSB Assessment Conference, New York, New York
Krentler, K. (2009) Improving Oral communication skills through Assessment: The Importance of Communicating your Expectations. 7th Annual No Carolina State Undergraduate Assessm, Raleigh, North Carolina
Krentler, K., Singh, N. (2009) Indian Internet Mavens. AMS World Marketing Congress, Oslo, Norway
Krentler, K., Wolfinbarger, M., Eisenbach, R. (2008) Lessons Learned From Growing Your Own: The Business Assessment Test. AACSB Assessment Conference, Dallas, TX
Krentler, K., Appleton-Knapp, S. L. (2007) The Influence of Our World on Student Ethics: Does Time Matter?. AMS World Congress, Verona, Italy
CBA Director of Undergraduate Programs, 2000 - 2013
CBA Director of Assessment
SDSU Director -- SDSU/University of Malta Dual Masters' Program, 2008 - 2013
WASC Evaluator & Substantive Change Committee
SDSU Student Learning Outcomes Committee
SDSU Undergraduate Council, 2000 - 2013