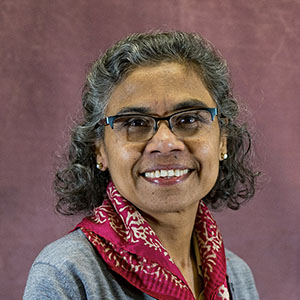 Chamu Sundaramurthy, Ph.D.
Department Chair/Professor
Management Department,Online Degree Completion (BSBA)
Bio
Chamu Sundaramurthy (Ph.D., University of Illinois, Urbana-Champaign). Dr. Sundaramurthy is professor and chair of the management department. Prior to joining SDSU in 2003, she served on the faculty at the University of Kentucky and the University of Cincinnati. She practiced corporate and taxation law in India before entering academia.
She has extensive experience teaching courses in strategic management and international business and is the recipient of multiple teaching awards, including the 2017 Fowler College of Business Outstanding Teaching Award.
Read More
Dr. Sundaramurthy's research centers on the governance of large public companies, entrepreneurial and family businesses, and social enterprises. Her work has been published in top journals such as the Academy of Management Review, Strategic Management Journal, Journal of Management, Entrepreneurship Theory and Practice, and Journal of World Business. She serves or has served on the editorial boards of multiple journals, including the Strategic Management Journal and the Academy of Management Review. In 2010, Dr. Sundaramurthy received the College's Outstanding Faculty Contribution award for research.
Interests: Corporate Governance Strategic Leadership Strategic Management Entrepreneurship