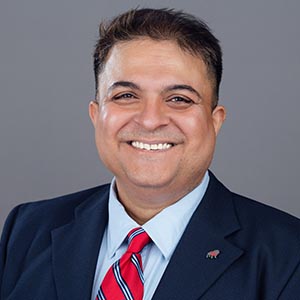 Anurag Mehrotra, Ph.D.
Assistant Professor
Finance Department
Bio
Anurag Mehrotra is an assistant professor of finance at the Fowler College of Business at SDSU. Currently, he teaches Real Estate Principles (FIN 331) in fall and spring and Real Estate Development (FIN 437) in spring. His research interests are in mortgage markets and institutions, urban economics, spatial mismatch, real estate finance and investments, empirical asset pricing and credit risk.

Prior to joining SDSU, Anurag received his Ph.D. from the University of Georgia and has over 15 years of industry experience as a banker and private equity investor. As a banker, he provided construction loans, long-term fixed-rate mortgages, and equity capital to real estate developers; he underwrote and financed over a billion dollars of real estate across the United States. He was then tapped to lead the investment activities for a $250 million private equity fund that deployed mezzanine capital across India.
Interests: Real Estate (Transactions) Real Estate Real Estate (Residential)